December 6, 2010
Blue Basil Holiday Brownies Selection Review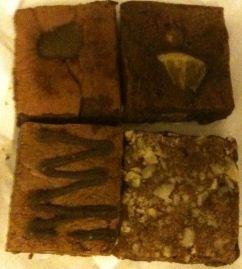 I had the great fortune to receive a sample selection of the holiday flavours of Blue Basil Brownies.  Interestingly, Blue Basil Brownies are made in Oxfordshire, not far from where I live.  Even more of interest is that they named exactly where the eggs, flour, milk and other ingredients were from.  They use Divine chocolate in their brownies as well, making these guilt-free brownies in many ways.
The four flavours I got sent were: Classic Chunky Chocolate, Rudolph Rumnut, Chocwork Orange with Contreau and Gingerbread.  These were all quite different and each reflected their name quite well.
The first one I tried was Classic Chunky Chocolate.  This was probably my favourite brownie with a dense, moist chocolate brownie body and chunks of Divine chocolate throughout.  There was a drizzle of chocolate on top as each bite was pure bliss.  The blending of flavours and the moistness of the dense chocolate brownie was only enhanced by the chocolate chunks.
Next was the interesting-looking Rudolph Rumnut. It was covered in nuts and was a moist, dense chocolate brownie.  This one was very strongly flavoured with the rum to the point I was a little worried about being over the drink drive limit.  The flavour of the rum did overpower the chocolate and brazil nuts but it was still pleasant.
The Chocwork Orange was surprisingly dry and while the orange flavour did come through, of all of the brownies it was the most cake-like.  This was still clearly a brownie but whereas the others were moist and dense, this was drier and cake-like.  There was a delicious piece of orange on the top and the flavour of the orange suffused the mix but I wish it had been moister.
The last one I tried was the Gingerbread and this was absolutely delicious.  The brownie was extremely gooey, moist and delicious.  There was a piece of ginger on the top and the heat of the ginger was not too overwhelming but was clearly present.  This was like all the best bits of a brownie and gingerbread rolled in to one.
Overall, I will be ordering more of these brownies as gifts and for myself and I can think of no higher accolade than that 🙂