December 7, 2010
Black Rose Love Fudge and Blackcurrant Rock Review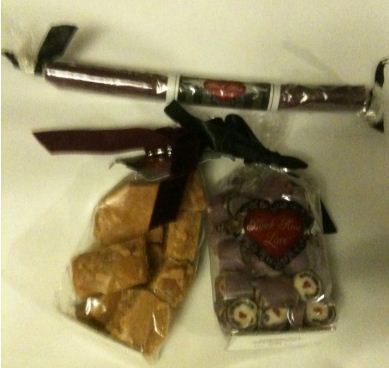 Now, I know that I focus mainly (and mostly) on (and about) chocolate but occasionally I divert (I'm thinking the cheesecake lollipops are only partially related to chocolate) and in this case, I diverted with Black Rose Love fudge and rock.
The design is the first thing you notice.  Everything follows a theme and the bags of delicious looking sweets are carefully created.  This is more than just a pick and mix – this is a nicely crafted sweet with attention paid to the packaging.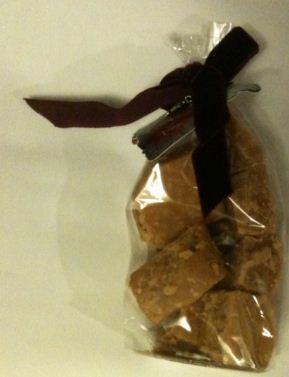 I tried the fudge first.  This is a GENEROUS bag of fudge so you are definitely getting what you paid for with enough for yourself and to share.  I had this earlier in the day and I think it is like a fudge a lot of people will love.  I'm a huge fan of creamy fudge so it didn't quite do it for me but I'm Canadian so I'm weird 🙂  It didn't have a flavour that stood out so will appeal to a large number of people so perfect for a party or as a gift.  Each page comes with a Tibetan charm and mine was a butterfly.  The perfect addition to make this a gift along with the red velvet ribbon and cute tag.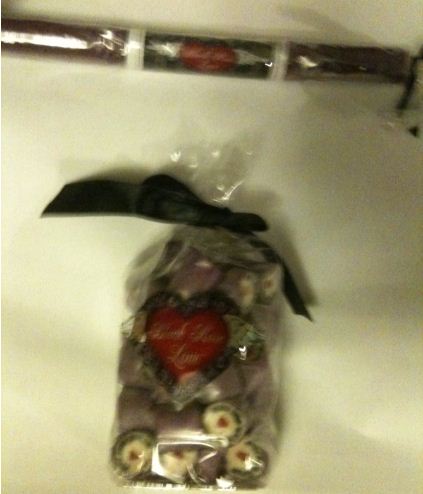 The black rose love blackcurrant rock was different.  I swear it tasted slightly of peppermint but mainly of blackcurrant.  This isn't the kind of overwhelming blackcurrant flavour of a cough sweet or a can of Vimto – this is more subtle and as such a very pleasant candy.  It is really rather cool that it has the brand name running through it and makes it a lot more special than most rock.
All in all a nice old fashioned sweet selection with the added bonus of a different flavour of rock than usual.  Would make the perfect gift!