February 25, 2013
Ben & Jerry's Launches Two New Core Ice Creams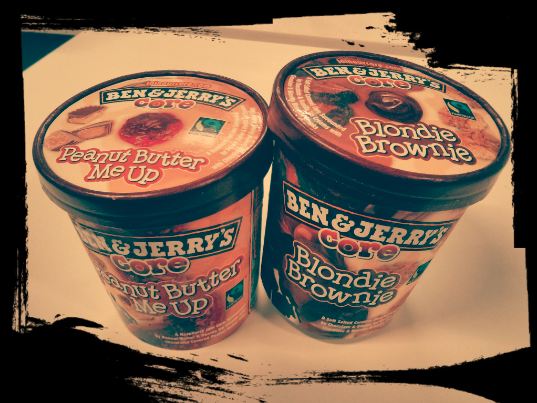 I love ice cream. I love all sorts of ice cream. You may have noticed a lot of love for Haagen Dazs on the blog because they have been sending me lots of delightfully indulgent ice cream lately as well as donating 24 mini pots as a prize for my blog. Well, I got the chance to go to a Ben & Jerry's launch event and learned some interesting things about their company, as well as the two new flavours.
Something I never knew is that Ben & Jerry's has 50% of the luxury market for ice cream in the UK. I'm not sure how that number was calculated and what it includes but it is interesting to note. Another interesting thing of note is how Ben & Jerry's has moved to as many Fairtrade ingredients as possible. The exception, they told me, was the milk. For those who know, they are petitioning to get dairy cows treated better. The petition is HERE.
This seems like an awesome company and they are constantly innovating with flavours and kindness to the environment. The latest releases see one of their cores – Berry White – being retired and these two new flavours coming to for fore as new 'core' range flavours. See what I did there 😉
Peanut Butter Me Up – a combination of peanut butter and vanilla ice creams with a core of raspberry jam. The vanilla ice cream is studded with mini chocolate peanut butter cups. The raspberry jam is surprisingly nice and the flavour combination is not too intense. So the peanut butter ice cream is not like eating peanut butter. The peanut butter cups are quite intense though in the vanilla ice cream. The raspberry core is interesting and quite a different texture. Apparently people have been crying out for this flavour for ages and finally they have obliged. Interesting.
Blondie Brownie – This is quite packed with brownies in both the vanilla and chocolate side. The blondie brownies in the vanilla side on top of the chocolate brownies in the chocolate side means there is a lot of brownie in this ice cream. The salted caramel core is amazing though. I wish the brownie chunks were smaller but this is an indulgent ice cream. On top of the indulgent salted caramel is the indulgent brownie and ice cream combination. I'm going to be buying this one for myself!
It was an interesting evening and quite the introduction to Ben & Jerry's behind the scenes. Inspiring how passionate they are about Fairtrade and how Chris Rivard works so hard on doing so much. They are already looking at releasing another flavour in early March so watch for that one as well soon 😉