August 17, 2012
Askinosie Intelligentsia Coffee Chocolate CollaBARation Review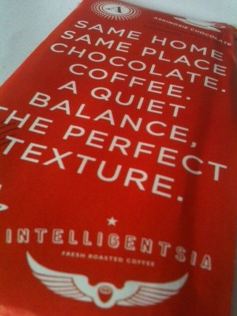 As you all know, I love Askinosie's dedication to sharing the love. From working directly with farmers, guaranteeing them better than market rates (well above "fair trade" prices) to employing women from the local shelter to help package the bars, I feel that this is a chocolate company with more than just heart – it is a company with heart and soul.
Askinosie give back to the community in the Philippines as well visiting the schools in the chocolate-growing districts and helping ensure every child gets fed. This is a company that does a lot of good work and makes great chocolate to boot. This is true passion come to life in the chocolate world and passion that can sometimes either not be present or not possible simply because of logistics. So it isn't surprising that this passion has led to several collaborations with other passionate companies. Having completely decimated the malted milk bar I went on to try the very different coffee bar.
Coffee and chocolate pairing is something slightly newer than people might think. According to the previous Fortnum & Mason's chocolate buyer (she has apparently now moved on) tea and chocolate is a more natural pairing and one that has been happening for longer. I'm not sure if that is actually true given the coffee notes in some chocolate but coffee and chocolate sure seem to be natural bedfellows now.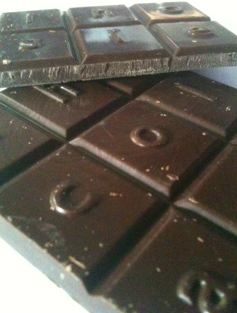 What you can't see in the picture is the ever so slight marbling on the front of the bar. This is a beautiful light zebra pattern coming through. It is an interesting effect. The coffee though – wow! It packs a powerful punch! The coffee they are using from Intelligentsia is a Mexican La Perla de Oaxaca which has been roasted to the edge of what I can take with my Starbucks addiction (I drink it for the milk and have decaf for my bones, not for the flavour). I initially thought the coffee beans had been over-roasted as they were so strong but they were just perfectly roasted – it is simply stronger coffee than I'm used to.
You do get those cherry, red fruit notes coming through with the chocolate. The coffee isn't the only flavour note with complexities revealing themselves as the bar melts and flavours develop. You also get that distinctive Askinosie chocolate flavour note coming through and that Davos Philippines chocolate coming through at the end with the hint of bitterness (not the kind that means you have to drink gallons of water, just a slight hint as bitterness is the last and longest of the chocolate flavours/sensations).
All in all this is a coffee lovers dream. A complex and delightfully fruity coffee roasted to perfection blended with a delightful chocolate. The careful pairing and balance of flavours so the coffee is strong but not overpowering has been done to perfection. It's a slice of heaven without chunks of coffee in the bar. Brilliant!