May 11, 2011
Artisan Chocolat Dark Chocolate Mole Chili Fusion Bar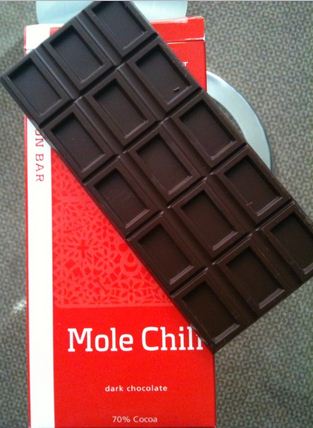 According to the back of this Mole Chili Chocolate Bar, Mole isn't just chilli. In fact, apparently it was invented in the 17th century by nuns in Mexico. They made it from dried chiles, ground nits, ground tortilla, cocoa beans and a long list of spices such as aniseed, coriander, allspice, clove and rosemary. Apparently this was meant to accompany chicken and while you can get that in Wahaca, there is no chicken in this bar.
In fact, in this bar you get almost everything else in the dark 70% chocolate including four types of chilli, almonds, tortilla, thyme, cloves, coriander and more. There is at least chocolate as the first ingredient and when you open the packet your senses are absolutely assailed with the scents of all those flavours. Forget the chocolate here – there is no way you will be able ot taste it under the spices but one would hope a spice/woody chocolate was used.
The immediate thing you notice as you put it in your mouth is how the spices mix together making it difficult to tell them apart (as well as how dried spice seems to have been used giving it a slightly powdered taste). There is no single winner to the spice assault here and even the chiles are not front and centre until the bitter end.
As you finish off a piece of this chocolate which melts readily in the mouth and has a delicate hint of a good dark chocolate base, you finally feel that distinctive warming from the four different chilli types added to this bar. There is no striking heat, no feeling of needing to drink milk but a gentle heat that warms the palette and reminds you why you chose this bar.
All in all with a good chocolate base, an exciting combination of spices which all seem to work in harmony without discord, it makes this bar the perfect choice for those looking for something a little different.