May 10, 2011
Artisan Chocolat Caffe e Latte Milk Chocolate Caffe Bar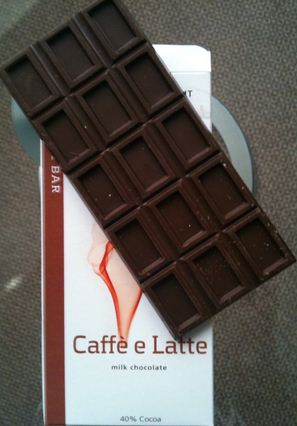 This bar greets you with the distinctive coffee scent, tinged with fatty milk as soon as you open it up. The plastic covering of the bar which has sealed it unlocks the scent and flavour promise of this bar before you even take a bite.
Apparently they grind, conch and refine cocoa and coffee beans from South America and combine that with locally-sourced milk powder (from powder cows) and love. I'm not clear what form the love takes but I think I'd rather not know being of a somewhat delicate disposition.
With "cane sugar" once again the first ingredient, we know this will be a sweet bar but the first think you get when you put a piece in your mouth is coffee and having gritty granules of coffee in the chocolate is the likely culprit here.
When I get a coffee bar (and I have their Espresso bar yet to review) I don't always like coffee in it. When I had Go Do (who are a wonderful company and we have a review to follow of all their bars) there was SO MUCH coffee in it I immediately thought of my husband who would like a mouthful of grounds more than me. Not that it was a mouthful of unpleasant grounds – it as just a bit much.
Here, the Artisan Chocolat bar has enough coffee to be gritty a bit and for you to notice it but it isn't thick with it. You get a very pleasant sensation of coffee which is only on the edge of being over-roasted and milk chocolate which gives a nice, if too sweet, caffe latte.
I think this is more of a transition bar. For someone who only likes sweet chocolate, sweet coffee and not a strong roast, this chocolate will be perfect. The milk chocolate is completely eclipsed by the coffee but when the flavour does come through it is delicious. The coffee is aggressing and there but it is not so strong I feel like I need a biscuit to take the flavour away.
I've become a real coffee chocolate fan and now fight my husband for the bars. This is so sweet though I know he will not want it and so I'll get to eat it myself 🙂