May 12, 2011
Artisan Chocolat Black Cardamom Dark Chocolate Bar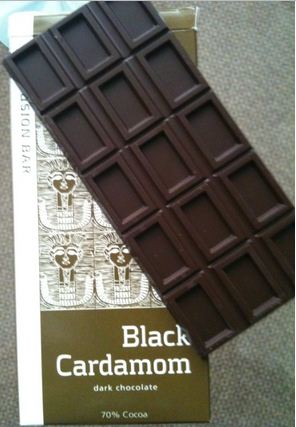 We find out why this black cardamom chocolate bar has the mask of Tutankhamen on it – apparently it was the favourite spice of Cleopatra who bathed in it and burnt it to welcome lovers. I'd argue that make Elizabeth Taylor a better image but I guess there were copyright issues.
This Artisan du Chocolat bar is made from South American cocoa beans and combined with black and green cardamoms and apparently has a smoky taste. I have to admit that I would have been tempted to use the cardamom in milk and steep it to infuse it lightly to gently add the flavour to a milk chocolate but I was open to try it in this dark bar.
Even just breaking a piece releases the scent of cardamom into the air and it rises up to tickle your nostrils. The flavour as you place it in your mouth is immediate and intense and yet not overwhelming. One thing to their credit, Artisan Chocolat have absolutely balanced the flavours correctly here. There is a nice balance between dark chocolate and cardamom here and while it would have been easy for the cardamom to overwhelm the chocolate it doesn't.
The chocolate, when it comes through, is a delightful almost creamy flavour though it is difficult to separate it from the cardamom flavour. This bar, I feel, shows of some excellent skills in balancing flavours as it is very easy to overwhelm everything with the intensely fragrant cardamom and yet here it is gently and while not subtle, it is controlled and balanced.
If you are worried about there being too much intense flavour in this bar – don't be. This bar is a wonderfully deliciously balanced flavourful bar that has been skilfully created. I continue to be impressed with the Artisan Chocolat range and while not all bars are to my personal taste – especially when paired with whisky, they are delicious and worth checking out.