June 22, 2011
Amano Ocumare Chocolate Bar Review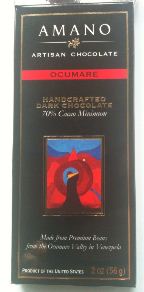 After getting a Coppeneur bar of Ocumare, I decided to try others. I managed to pick up a bar of Amano Ocumare and as this was a bar from a name which I have come to trust I decided to give it a whirl. I'm always willing to buy bars from small manufacturers and Amano is tiny. Like Soma, they select their own beans and are part of the whole process from bean to bar.
I'm rather tough on Amano. Their slick packaging has, at times, belied mediocre chocolate and I really think given the small nature of their production lines that they should be doing great things. Given Duffy, Soma, Tcho and others excellent chocolate, there is room for greatness here.
This bar has a distinct scent that has an edge I associate with burnt beans. I'm a bit worried but I figure it can't be bad because this is from an award-winning chocolate maker. On putting it in my mouth there is absolutely the flavour of burnt coffee thick over everything. I'm a bit shocked really and take another piece. The melt is good and the conch leaves the chocolate a bit rough and I'm looking for a hint of almonds or red fruit but all I get is burnt coffee.
Once the chocolate melts away I get my precious red fruit as an after taste but the taste of burnt coffee is strong. I'm desperately disappointed after the Coppeneur bar. I think if I had bought this bar first, I'd never bother with another brand. I hope it was simply lot 3/4/85D was over-roasted and that other lots were better, bringing out that red fruit and lovely marzipan flavour.