September 6, 2012
Amano Dos Rios Dominican Republic Chocolate Bar Review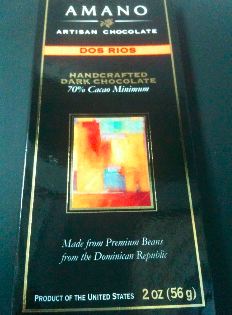 Amano is an amazing company. They are situates in the beautiful state of Utah and are in a quite industrial estate. Indeed, unless you know that they are there, it is almost impossible to find them. It was to their factory store that my client so wonderfully thoughtfully drove me while en route back to the office from one of their campuses.
The factory store is a lovely place where you can buy everything (except cocoa dusted truffles) you could wish for – brownies made with Amano, chocolate chunk cookies made with Amano – indeed all sorts of bakes goods as well as bars and filled chocolates. It is just paradise for a chocolate lover with rows of bars everywhere. They even have a branded cool bag I was given as a gift after buying some stuff. Absolutely wonderful as an experience!
While I was there I picked up a number of bars and this was one of them. Everyone has been raving about this bar but I'm a red berries and acidity kinda gal and love my Soma Chuao (though that Rozsavolgyi Csokolade Porcelana was some kind of awesomeness) and I guess outside a few trusted chocolate makers I don't expect to be blown away. I still wanted to give Amano more of a go and buy some fresh from the factory shop in case it made a difference.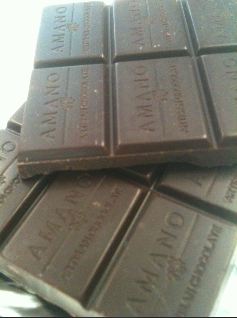 There's a unique flavour to Dos Rios that I can't quite name. It is spice but more – it is robust and pervasive at the start, really enveloping your senses. Once that passes, I get more of a raw nut flavour with some deep fudgy chocolate. A second piece gives me that blast of that interestingly unique spicy note (not heat – spice in the more traditional sense) that I wish lasted longer as it is what really gives this Dos Rios character. I'm not sure I would have named it as Bergamot on my own as I've got a quite set perception of what Bergamot is but I can see why Bergamot was used to describe one of the flavour elements. There is a slightly powdery mouth feel but nothing too extreme though there is a slight drying sensation at the end and I feel as though this has a less 'buttery' texture.
Overall you can see why Amano is winning awards. Clearly direct from the factory I was able to bag a few bars of better quality that really deliver of the depth of character and quality that Amano are known for. Would I recommend it? For those of you what are not acidic red fruit fans this is absolutely for you – go and buy yourself a half dozen bars FAST because this is going to be your new favourite. For those of you who have a palate like mine this is still an extremely enjoyable bar but maybe stick to 3 or so and buy a few other bars as well. Still worth your while but maybe less a forever bar and more a for now bar while you wait on that delivery of Askinosie or Dick Taylor 😉