September 7, 2012
Brunch at Aubaine Reviewed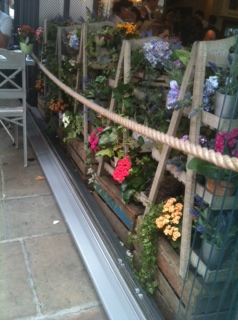 I don't usually go off the beaten path but when I was invited to review brunch at Aubaine specifically because of the desserts, I couldn't say no. Tragically I was booked in the morning after I heard my grandpa had passed away. I kept the appointment because sitting at home and crying wasn't really helping and so I thought getting out in the sunshine might. I was crying at the drop of a hat so I was looking to take my mind off things and this seems the perfect way.
Aubaine is beautiful. It seems set up for the ultimate brunch atmosphere. They do breakfast and lunch as well as a weekend brunch but according to the manager, brunch is where they excel. They actually have their own bakery and so are making all their bread and patisserie for their own restaurants. No one else gets their delightful multi-seed bread or their patisserie and this is what sets them apart they feel.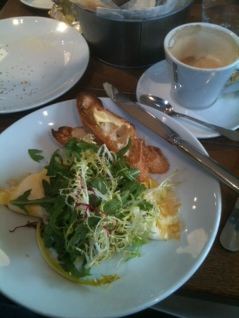 We were seated at a delightful perfectly sized table for 2 by the window. Usually you do have to reserve for brunch and while they do welcome parties of 12 or more, they do need a reservation simply because they are so popular. They can accommodate parties of that size and the kitchen won't break a sweat but the space in the restaurant needs to be cleared.
They have the same menu across all Aubaine restaurants, and there are eight of them across London and surrounding area. They want you to be able to have breakfast in High Street Kensington and lunch in Piccadilly and for you to know exactly what you're getting. In an age of specialities and individuality that is something quite different. I was also informed that the manager prefers female wait staff because they do not have a Michelin star. Make of that what you will.
I decided to honour my grandpa and his war stories by having the duck egg omelette with hollandaise sauce. My grandma always told the story of how when she got her ration of eggs for that week and was carefully taking them home, air raid sirens went off and in her rush to avoid getting killed, she tripped on the curb and broke the eggs. That was a fate worse than death to her and marked her memory. I never heard many stories of their time in Leicester but they then went to Canada where my dad met my mom and voila then there was me.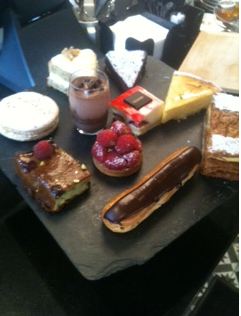 The omelette was brilliant. The taste of egg actually cleared the palate quite quickly and was absolutely perfect while the hollandaise sauce was great. The desserts are what you want to hear about though, right? So the desserts are brought out on a slate plate and presented to you. These aren't the exact ones you get, mind you, just a selection of what is available that day. There was a mille feulle, giant macaron, flourless chocolate cake, all sorts plus the éclair. When I asked whe waiter what he felt was the most outstanding piece, it was the éclair. So that was what I opted for and my friend got the macaron as she wanted something light. It wasn't but that is another story 😉
My éclair was great. The pastry was nice and light and nicely baked, without being over baked. The centre was dry with a brilliant milk chocolate cream in it and you can see how much chocolate cream you get inside. It was a bit sweet but I like my chocolate dark and the vast majority of the population is going to have their caramel unsalted and their eclairs sweet.
All in all, this is an absolutely brilliant place for brunch with some really yummy desserts (so leave space!) and a place you can relax and enjoy yourself.