September 10, 2012
Daniel Jones Limited Edition Chocolate Bars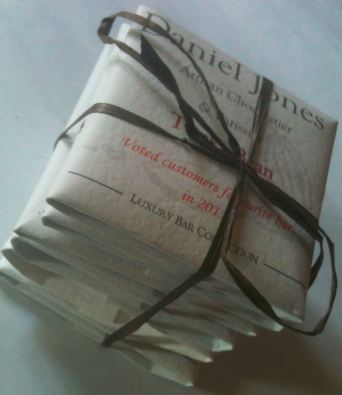 I was lucky enough to be sent a set of bars, two of which were limited edition and so I thought I'd put them in a review all their own. Of Daniel Jones I knew little so I went to his site and found a little about him:
Having been working in the hospitality industry for six years and gaining a First Class Honours degree in Culinary Arts Management, Daniel Jones now spends his time developing and creating new and innovative chocolates. He has loved working with chocolate and patisserie since the young age of five and over the years has learned to 'play' with unusual flavours and textures, creating totally unique designs.
Daniel has worked as a a Sous Chef and Pastry Chef at Hugh Fearnley-Whittingstall's Restaurant, River Cottage, before embarking on his own cooking style and becoming Head Chef at The Harp Inn, Old Radnor. In every job, he has always illustrated his passion for chocolate in both sweet and savoury dishes.
But what about the chocolate…? Daniel apparently sources some of the World's finest cacao including Trinitario beans from Dominican Republic and Venezuela and Criollo beans from Indonesia. With each different type of bean, from each different region comes unique, complex and individual flavours. Daniel uses either single origin or home blends to create stunning flavour combinations, complimenting the natural flavours found within each variety of chocolate.
So to the bars…!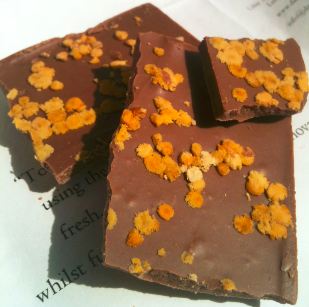 Orange & Bee Pollen – I have to admit I was a bt scared trying the bee pollen – t someone with a lot of allergies new foods are scary. I needn't have been – delightfully flavoured with a sweetness from the chocolate and a unique flavour from the bee pollen it was really neat and quite unique. the flavour with  that hint of orange was really pleasant. It is subtle but not so subtle that you can't taste it and the bee pollen adds a unique flavour that I think, for me, really makes the orange delightful. All in all it is a shame it is limited edition.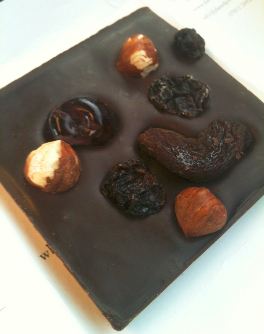 Fruit & Nut – this dark chocolate bar was interesting. I love the idea of having the large fruits on the bar and a small scattering but there just wasn't enough for me. I found the chocolate pleasant and really moreish – dark but smooth and sweet — but I could have done with more fruit I guess. I'm not a massive fruit and nut fan though so perhaps ths is actually fruit & nut heaven.