September 16, 2011
Aldi Cremant de Jura Sparkling Wine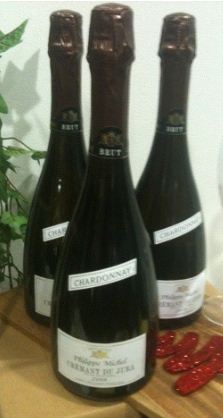 At a recent event I had the fortune of being able to try a number of Aldi wines and their amazing chocolate chip brioche.  I am a firm Aldi convert.  They have some amazing food and the stuff coming out for the holidays is going to make you a convert too.  Trust me and remember to pop on for their cheese selection platter from Dec 18th (I believe), their bacon wrapped sausages (best I've ever had for personal flavour preference), turkey (deliciously moist) and of course, Moser Roth.
In addition to the great food, they have some great wines.  Now, I won't lie and say they are all great because they aren't and some were far too young and raw for my taste (avoid the chardonnay unless you like your gooseberries and elderflower really strong) but you know they would do well as a mulled white or red because of their unique flavours.  This, however, was a sparkling white.
Champagne has long evoked images of decadence and opulence and as such there are a number of sparkling wines on the market that attempt to bring some of that indulgence to a budget that suits all.  Frankly given the flavour of a lot of the champagne I have tried, including Dom and Bolli, you get better flavour in some sparkling wines anyway.  Cava and prosecco are two popular sparkling non-champagne tipples.  Each has a distinct flavour range and each has a country of origin.  This offering from Aldi is slightly different.
Bottled in what we recognise as something similar to a champagne bottle, we immediately know it is a sparkling wine.  Chilling it for a full two hours like any fine champagne should, we popped the cork and in some lovely martini glasses we enjoyed our first sip.  The flavour was a combination of a young light chardonnay and a sweet prosecco, blended together to calm both elements into something very drinkable.
If you're buying for a party, this would be a great welcome drink on its own or the flavour profile I think lends itself specifically towards a Kir Royale so pour a little of this in a glass, slowly add some crème de casis and then carefully top it off.  Or make yourself some Mimosa by combining orange juice with this sparking wine.  In a tall champagne flute these drinks are easier to make than struggling with the wider champagne glasses.  Finish off a Kir Royale with a blackberry on the side of the glass or have some blueberries or actual blackcurrants in the bottom of the flute for a bit of extra something.  Mimosa can be finished with a thin half slice of orange on the side of the glass or a very thinly sliced piece of rind curled in the glass.
Whatever the occasion, if you've got a lot of people to buy for whether you are on a budget or not, Aldi is becoming the choice for taste, not just price.