October 7, 2015
10 Absolutely Magical Christmas Markets in Europe
Everyone loves Christmas. Christmas markets are a big part of getting into the spirit and if you want to make this the year you go visit one you should start planning now. And DoHop want to help but you know you totally can just organise everything online 😉 However they have helpfully put together this amazing list *AND* if you do your booking around now it should at least be cheaper than leaving it until you see everyone posting their trips around to various Christmas markets on Facebook and think 'oh ya – I wanted to do that'.
I'm not sure *why* DoHop put out this list as there was no additional info about trips or anything in the press release. Who cares – this is an EPIC list and while I have done Berlin and London I totally have to start notching up a few more! Here are DoHop's picks:
1. Berlin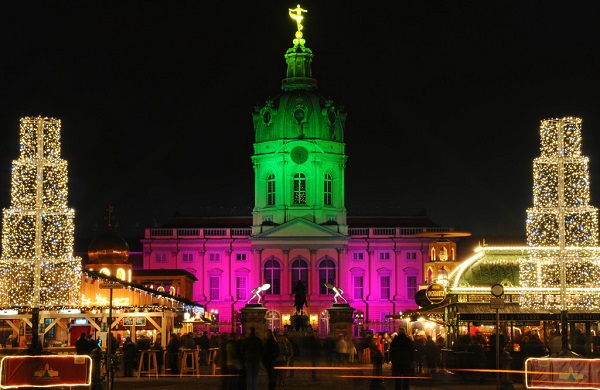 The home of over 60 Christmas markets, from the middle of november to end of december every year, Berlin has to be on this list. With so many great markets available, there is certainly something for everyone.
Our absolute favorite market is the one at Charlottenburg Palace. The scenery is absolutely wonderful, with the palace being lit up by beautiful lights. The market has a great mixture of art crafts and food and drinks and is sure to fill your heart with Christmas spirit.
When: 23 November – 26 December 2015
How to get there: It is easy to get to Berlin with two big international airports in the area, Berlin Schonefeld (SXF) and Berlin Tegel (TXL)
2. Stuttgart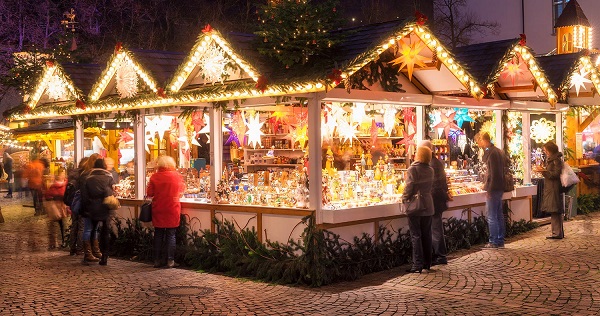 Stuttgart's inner city hosts the city's Christmas market, or Weihnachtmarkt, which has been a tradition for over 300 years. First mentioned in documentation dated as far back as 1692, this market is full of history.
As you smell the toasted almonds, taste traditional ginger bread, and admire all the decorations, the historical city of Stuttgart will easily fill you with Christmas spirit. Shop for Christmas tree decorations, toys, woodcraft, candles, or even lambskin at this charming market.
This is a family friendly market with a dedicated area for the children, called Kinderland, and a miniature railway with real steam.
When: 25 November – 23 December 2015
How to get there: Through the Stuttgart Airport (STR)
3. Gothenburg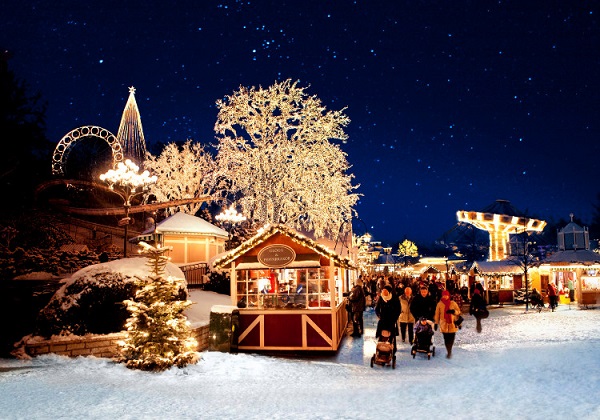 With millions of Christmas lights lighting up the area, Liseberg Christmas market glows with the joy of Christmas. Choose between homemade sweets, roasted almonds, hot chocolate and other delicacies for the Christmas table and find that special Christmas gift. You can even take a journey into the Christmas of the Middle Age.
Remember to visit the arts and crafts area for some amazing Scandinavian designs. Liseberg Christmas market is Sweden's biggest and most atmospheric Christmas market.
Admission: 90 SEK
When: 20 November – 30 December 2015
How to get there: Through Landvetter airport (GOT), 20 min (25 km) away from Gothenburg.
4. Lille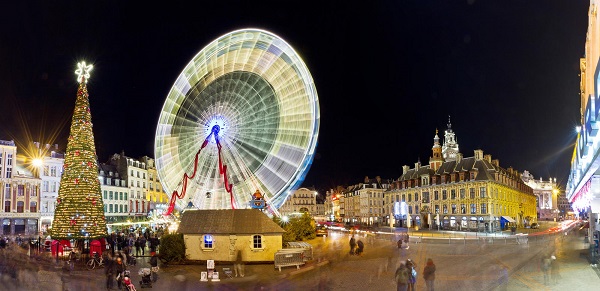 In Lille, the historical city located in Northern France, you will find one of Europe's best Christmas markets. Within a period of one month, you can enjoy everything a good Christmas market should offer.
Here, you will find a real winter wonderland with regular visit from Father Christmas. Take a trip in the 50 meter high Ferris Wheel with a fantastic view over the market and the whole city. At the same time, enjoy the sounds of Christmas carols fill the air.
When: 19 November – 30 December 2015
How to get there: Through Lille Airport (LIL), only 15 min drive to the city center.
5. York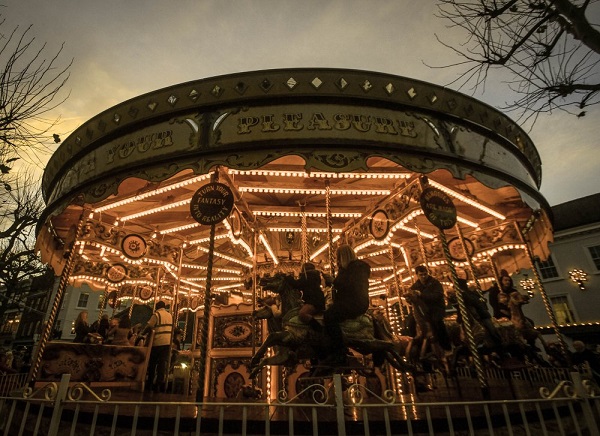 York's St. Nicholas Fayre is one of UK's favorite Christmas markets. Get into a festive spirit and pick up some perfect Christmas gifts for your loved ones back home.There, you will find entertainers, arts and crafts, and even some tasty treats with some hot mulled wine.
End your wonderful visit to the market with a Christmas concert in the beautiful, historical Minster.
When: 19 November – 23 December 2015
How to get there: The closest airport to York is Leed Bradford international airport (LBA), about one hour drive to York.
6. Tallinn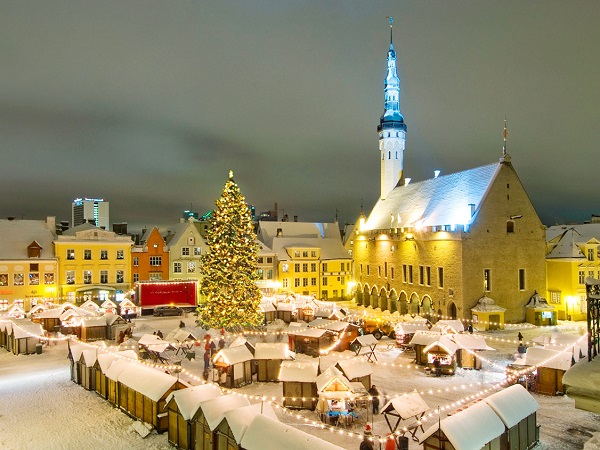 A traditional old town Christmas market in the town hall square. Since 1441, the Christmas tree has been set up in the town hall square, making it one of the earliest evidence of decorated trees for the Yuletide season. In fact, it was the first Christmas tree ever put on display in Europe.
Even though the market itself does not have the longest history, or only since 1991, you can feel the spirit of this old city's Christmas tradition. Take your time browsing the wooden stalls, where you will find wooden Christmas decorations, hand-knitted jumpers, and other arts and crafts. If that's not enough, you can warm up with some mulled wine, or glögi as they call it.
When: 21 November 2015 – 8 January 2016
How to get there: Tallinn airport (TLL) is only 10 min. away from the city center
7. Prague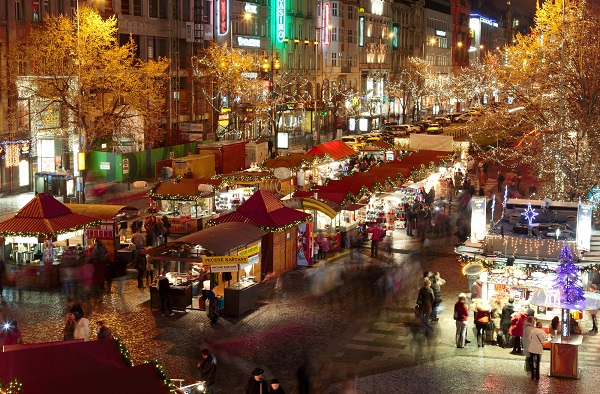 Prague hosts one of Europe's most popular Christmas markets, located on the Old Town Square. Visitors come from all over the world to experience the prettiest and the busiest Christmas market in Prague.
The market offers and celebrates traditional Czech handcraft and is characterized by its beautiful Christmas tree, surrounded by the wooden stalls. There, you will find a lot of unique products, such as Christmas ornaments, holiday decorations, some traditional Czech sweets, clothes, and handmade wooden toys.
At the stage by the Christmas tree, there will be Christmas concerts and short plays.
When: 29 November – 23 December 2015
How to get there: Prague Airport (PRG) is located only 30 min. drive from Prague city center
8. Vilnius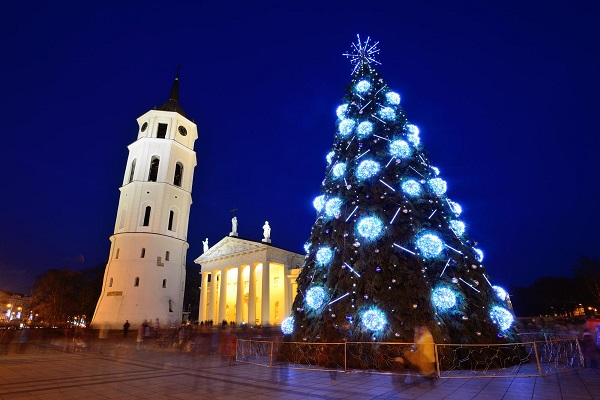 Vilnius, the capital of Lithuania, hosts one of the more recent Christmas markets. With three main locations, you can enjoy a 3D fairy-tale "Christmas Dream" at the Cathedral square, check out international Christmas charity fair at the city hall square, and admire the playing fountains and carousels at the Bernadini Garden.
If you are not a fan of big crowds, the Vilnius Christmas market is the right market for you. With beautiful decorations all around the city, you can also buy some traditional Lithuanian handcraft, cakes, and pastries.
When: TBA – Around 28th of November until 7th of January
How to get there: Through Vilnius International airport which, is only 10 min. drive from the city center.
9. Strasbourg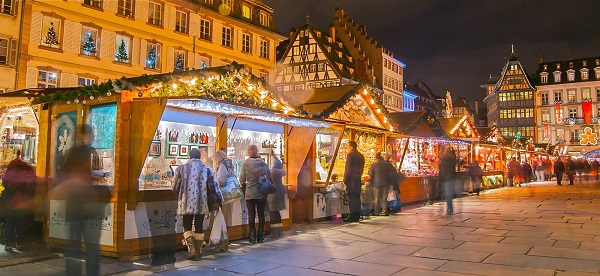 Strasbourg hosts one of the oldest Christmas markets in Europe. It was first held in 1570 and now has over 300 stalls, at 11 different locations, in the city center.
The main area is around the fabulous Gothic Cathedral, where you will find authentic Alsatian Christmas decorations with beautiful arts and crafts, food and hot beverages. Enjoy a number of different events, concerts and exhibitions, which really adds to the Christmas spirit of the town.
When: 27 November – 31 December 2015
How to get there: Strasbourg International Airport (SXB) is located only 15 min. drive away from the city center
10. London


London hosts many different Christmas markets all around the city. But it's safe to say that Covent Garden is one of a kind. During Christmas time, it is truly one of the most magical areas within London.
The decorating begins at the beginning of November and over the next 2 months, the garden is decorated with 150.000 sparkling pealights and a giant silver reindeer.
You will find the market In the Covent Garden Piazza, hosting around 40 stalls that sell a variety of quality goods. You can expect to find antiques, arts and crafts, pictures, and clothing. It is the perfect place to find special Christmas gifts.
When: TBA – From the beginning of November until beginning of January
How to get there: With six airports in the London area, finding flights should not be difficult. The following airports are within an hour from the city center, London City (‎LCY)‎, London Gatwick (‎LGW)‎, London Heathrow (‎LHR)‎, Luton Airport (‎LTN)‎, London Southend Airport (‎SEN)‎, London Stansted (‎STN)