Tag Archives:
imported chocolate
I'm originally from Toronto and so when I visit, I like to discover new chocolate places.  I find most use Callebaut, buy pre-made chocolates from the same chocolate supplier in Belgium and are generally unoriginal.  I found only Soma Chocolates, ...
Comments Off

on Dahso European Chocolates from Toronto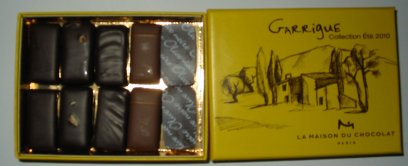 This small box of chocolates which you can pick up for £12 arrived at my home in a giant box.  Delving in to the bubble wrap was fun, but not as much fun as the chocolates themselves were. There were 2 ...
I originally found this chain as the Australia Ice Cream and Chocolate shops in Amsterdam.  Here in Berlin they are Bandy Brooks with ice cream and a range of chocolates.  These aren't the best chocolates in the world and really ...
Comments Off

on Bandy Brooks Chocolates in Berlin
I am passionate about chocolate, as is clear from this blog. I seek out everywhere I can to find the novel, unique, top quality and enjoyable chocolates.  Sometimes I win and sometimes I have to scrub my tongue in order ...