April 21, 2010
Bandy Brooks Chocolates in Berlin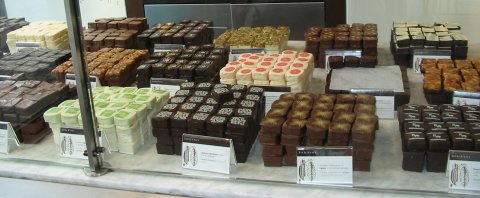 I originally found this chain as the Australia Ice Cream and Chocolate shops in Amsterdam.  Here in Berlin they are Bandy Brooks with ice cream and a range of chocolates.  These aren't the best chocolates in the world and really I had to invent an extra category for them as they aren't great but they are better than just OK.  I tried a bunch of them and these are my thoughts.
Raspberry – sweet dark chocolate with a raspberry jelly and white chocolate ganache filling. It's OK but it is also huge and enough on its own.
Milk chocolate ganache covered in dark chocolate – the surprise here is that there are crispie bits. Very sweet which typifies this range of chocolates.
Bittersweet Ganache – this bittersweet is slightly harsh, as though they are trying to make up for all the sweetness of the rest of the line by making the bittersweet chocolate excessively bitter.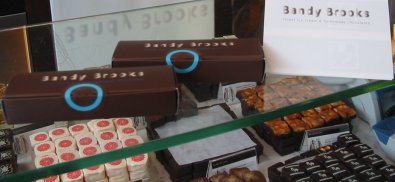 Bittersweet love – orange jelly with sweet milk chocolate ganache but the ganache is grainy and overly sweet.  It's a bit much for me.
Green Tea – when taken in small doses, it is OK but more than s tiny bite is so extremely sweet it is a bit too much for me.
Coffee – bitter intense coffee this is probably the best of the lot.  The extreme coffee flavour overwhelms the flavour of the chocolate and isn't as sweet as the other ones so it makes it the best chocolate of the lot.
A for effort but there is a long way to go.