Tag Archives:
Coppeneur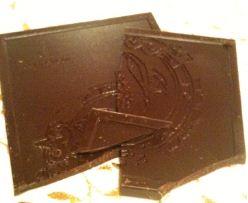 Soma Chocolat may be my first love for Chuao but Coppeneur is my first love for Ocumare. I had theirs before I tried Amano and as my review mentioned, I'm pretty sure I got a bar from a batch of ...
Comments Off

on Coppeneur Chuao Chocolate Bar Review
It was on a whim when I was in a giddy mood that I bought this chocolate. I was literally a girl in a chocolate shop and I was surrounded by chocolate from all over the world. The place ...
There is a beauty in a mould poured perfectly which has intricate little designs on it and yet is bubble-free. It speaks of someone who takes the time to do things. It shows a perfectionism you do sometimes ...
Comments Off

on Coppeneur Menavava Madagascar 72% Chocolate Bar Review
This Coppeneur bar was something I picked up in Berlin having never had the chance to purchase one before.  There was a fantastic shop with all sorts of different bars and this was one of them. I was unsure about the ...
Comments Off

on Coppeneur Uba Budo Sao Tome Forastero 72% Chocolate Bar Review