March 23, 2012
Pierre Marcolini Limited Edition Single Origin Oriente Cuba Terruno de Baracoa Chocolate Bar Reviewed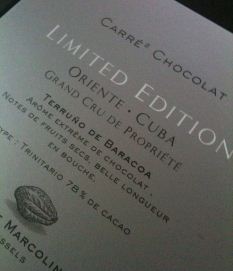 I remember seeing "Cuba" on the shelf in the bean storage shed at Pierre Marcolini's factory and thinking "beans from Cuba? No f-ing way" but I said nothing. It was Emmanuel who was both my tour guide and my translator while I was at the Pierre Marcolini factory who explained that the woman who does all the buying for Pierre Marcolini negotiated for over two years in order to get her hands on these beans.
I had the most amazing time and am hugely grateful to Pierre Marcolini for inviting me into his factory to correct my misunderstanding that the hazelnut bars at Selfridges had bloomed when, in fact, it was the natural oil from the extremely high quality hazelnuts they use simply coming through.
The pods contain white and purple beans due to the cross between Criollo and Forastero. Forastero beans are, unfairly I think, often dismissed by chocolate lovers as an inferior bean. The Baracoa estate is a real gold mine and is defended tooth and nail by Urbano, who is in charge of the itinerant drying and fermentation camps. There are still some pure Criollo strands which were used in the original cross between criollo and forastero. Pierre Marcolini were the first to be allowed to import beans from Cuba since the embargo.
The area this chocolate comes from is quite interesting. This territory has almost 30,000 hectares of heritage forests: two thirds is natural, the rest is planted. The local Forest Enterprise is one of the nation's largest and leading in the sustainable production of hardwood, mainly cedar and some mahagony. It is also an area for bird watching with a huge array of birds that find a home here.  Baracoa produces around 75 percent of the country's total cocoa production which is harvested March to June and September to February, leaving only three months when cocoa is not harvested.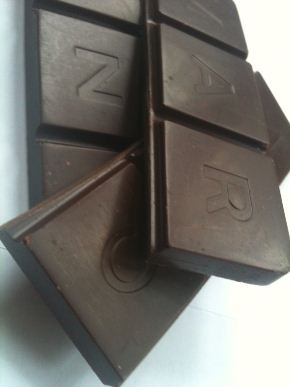 So on to the actual taste of the chocolate… Holy freeking cow. Suh-weet even at 78% with a hint of honeyed smoke so subtle even I like it. There is a delicious dried red cherry flavour that starts this bar (one of my favourites) and it evolves into so much more while still staying sweet. Honeyed tobacco leaves play on your tongue warming your palette ever so slightly before the acidity mingles with it to alter it into some delightfully delicious dried fruit. I think I just died and went to heaven. Sorry Soma Chuao – I think I might have a new favourite 😮
I tell you no word of a lie when I say that I loved this bar so much it brought tears to my eyes. I swear it was that good that I teared up and worried husband who thinks I'm a fool for getting tearful over a chocolate bar but then tried some and was shocked by how good it was.  If *I* am getting tearful over this chocolate, imagine how good it must be. No wonder they demanded (and got) the whole shipment of this bar.  The chocolate develops well but in a bit of a mind-blowing way. I had trouble concentrating. Going back for more, that sweet honey flavour (there is no added honey) comes out in the scent as well as the initial flavour before the intense red cherries that come through right away. The tobacco comes in the middle of the melt as the cherries drop back slightly and there comes the acidity in a little more force.
What more can I say but that I will be buying more of these bars for myself. Not only is Pierre's chocolate spread an orgasm in a jar, this Cuban chocolate bar gave me a mind-gasm.  If you're like me and you like red fruits, honey and complexity, go and buy some before this limited edition runs out.