May 30, 2011
Original Beans Piura Porcelana from Peruvian Andes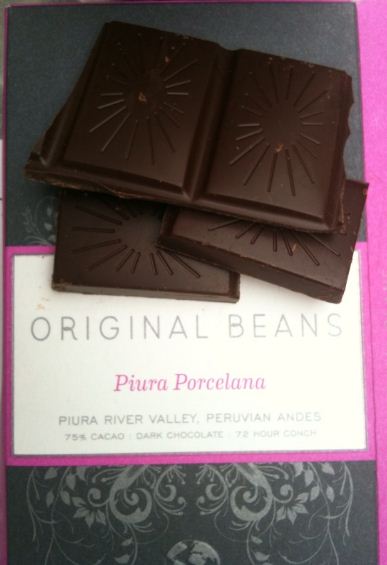 I like the porcelana bean. It's got this sexy light colour and is always spoken about in hushed reverent tones. The bean itself is beautiful and the scent of the bean (when treated properly) follows it through to the bar. When I was at the Pierre Marcolini factory it was the one bean I could remember smelling distinctly and could smell it in the chocolates in the shop. Ya, not just the bars – at least one of the filled chocolates too.
It's a sexy name too – "porcelana". It's like porcelain on steroids and we all know how the best tea cups are porcelain. We're taught to both fear and respect the translucence that it porcelain. It has it's own following of folk willing to pay insane process for it. Thus in our collective psyche, "porcelain" is a somewhat mystical, revered substance.
Enter the porcelana bean. Does it look like the clay porcelain is made from? Nope. Is it white? Nope. Does it make a particularly translucent chocolate. Not that I've encountered but you know, those chocolatiers can do almost anything. What makes this worthy of the name of something with such mystique? Well, the name 'Porcelana' is derived from the white color of these spcific cacao beans. It is an
extremely rare cocoa bean which has a subtle, delicate taste. Porcelana Criollo was previously thought only to be found in Venezuela and Mexico but hello hello – Peruvian Andes!
And really… what the heck. It sounds sexy and it is lush chocolate!
This bar lists it as a 72h conch which makes it creamy smooth. Mind, the properties of the bean itself enable such a long conch time (which likely includes some of the refinement time) and although this porcelana bar is 75% making it darker than others I have encountered, it is absolutely delightful. The dark chocolate is gentle and smooth and almost milky it is so creamy. It melts quickly and cleanly in the mouth. Imagine a bar of high quality milk chocolate without the sticky, sugary taste in your mouth. That would be close to what this is.
There is a very, very slight hint of acidity but overall there is simply the sensation of pure, unadulterated chocolate. The tasting notes talk about kumquat which I got in the afternoon tasting but not the morning. I didn't get lime but might have found a tiny hint of raspberry. I was tasting more than just this bar at the time so some of the flavours may have been skewed slightly by what came before. Overall it is really just a massively chocolaty bar. The finish is like chocolate milk – a pure, unadulterated chocolate flavour. Nothing more and nothing less than just chocolaty flavour. This chocolate has no bitterness, no edges to it – just pure lush indulgence.
This bar helps restore an ultra rare cacao bean from extinction according to the package. What more could you possibly ask for. A noble cause and a delicious chocolate. Get buying people!