October 28, 2011
Espresso Brownies Recipe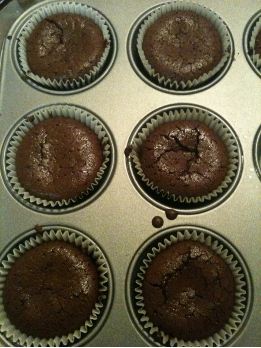 My husband loves coffee and yet doesn't like my brownies because they are too rich.  If you've tried the brownie recipe I use from Green & Blacks, you'll know why 😉   So I tried this recipe and it was perfect for him though I had to change the way it was made as the directions were slightly off.
Ingredients:
200 g 70% dark chocolate like Green & Blacks
150 g butter
150 g brown sugar
80 ml heavy cream
4 eggs
1 teaspoon vanilla extract
3 tablespoons instant espresso
30 g wheat flour
Method:
1. Preheat oven up to 190C. Place paper cups in a muffin tin or line a square baking pan with greaseproof paper.  The pan should be 20 x 20 cm roughly for the amount of batter we're making.
2. Pour the water in to the pot for about 3 cm, boil. When the water comes to the fisheye stage, turn down the heat to keep it lightly simmering, put the bowl of chopped chocolate on top so the bowl is not in contact with water. Melt the chocolate slowly and then add the room temperature butter and mix and melt them together.
3. In a separate double boiler, warn the cream slowly and add the instant espresso and stir until it is completely dissolved then remove from heat.
4. Pour the vanilla extract into the cream and whisk gently. Now mix the cream into the butter and chocolate carefully while both are still warm.
5. In a separate bowl beat the eggs and sugar together.  Once the mixture coats the back of a spoon, beat in the chocolate mixture.  Sift in flour and stir thoroughly before pouring into the dish or muffin cups.
6. Put in the oven bake for 15 minutes, if you want it to be a little soft in the middle. Bake about 20-25 minutes, if you want a cakey brownie.