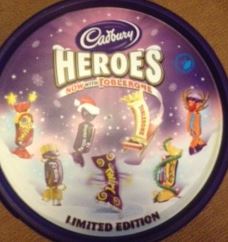 This year you may notice something different in your tub of Heroes. Well, those of you who buy Heroes. I may occasionally… you know… when they are on special… I might buy two… or you know… maybe more…
ANYWAY – you don't want to listen to me admit to over-indulging in chocolate! I'm excited to let you all know that the Bournville, the one chocolate always left at the end of the tub, has been replaced by TOBLERONE!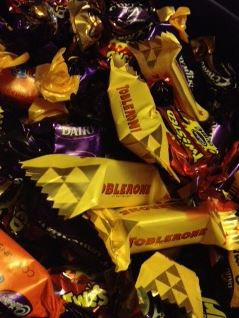 YES! That's right! That nougat milk chocolate deliciousness is now included in the new tub of Heroes and no more Bournville! YAY!
So watch out for those £5 specials and grab a tub of JOY! Or… you know… just buy some like I do 😉
Subscribe
This Site Uses Cookies for Analytics
If you don't want to be analyticsalised with a cookie from Google, best pop off to another site.
Check out my Recipes, Reviews and more!
Links on this Blog
All links on this blog are editorially given. Do not contact me for link exchanges. Reviews do not guarantee links. I do not add links to articles already written unless I want to, and any requests to do so will be refused (and may result in the review being withdrawn). I reserve the right to remove links from reviews at any time for any reason including but not limited to whim. I am not your link bitch, don't try and treat me as such.



#abusivechocolate I felt sorry for it. I thought it was a mistake. I thought it was an accident. I was ashamed to have been faced with it. I wondered what I could do to cover it up. I didn't want to tell anyone as I thought it would cause unnecessary embarrassment.
🍫
Then I thought about the message and I knew it was deliberate. I'd been sent a box of four chocolates from Paul A Young to support the Women's trust because one in four women will experience domestic violence in their lives. Paul A Young & Women's Trust have created a box of 4 chocolates which all look the same, however, 3 are officially the world's best sea salted caramel and 1 is probably the worst, a durian fruit caramel, with a revolting taste that has been described as 'the world's worst tasting food'.
🍫
Figures show that around 4.3 million women aged 16-59 have experienced domestic abuse in the UK. However, there are still few organisations that make the connection between domestic abuse and the long-term impact it can have on women's emotional wellbeing.
🍫
Putting officially the world's best and possibly the world's worst caramel truffle in the same box, Paul said: "It was incredibly challenging trying to make a chocolate people would hate, and goes against everything I try to do with my craft. But it was for such a worthy cause, I couldn't not give it a go. Chocolate is associated with luxurious, indulgent and pleasurable experiences which leave you wanting more. By contrast, the durian, like domestic abuse, stays with you long after your first encounter, so it seemed like a perfect way to illustrate the heart-breaking experience of so many women and raise awareness of a cause I feel passionate about."
🍫
Last year Woman's Trust helped over 1000 women in their journey to recover from abuse. Run entirely on donations and grants, visit them at www.womanstrust.org.uk or buy the chocolate at http://bit.ly/2Im0oIO
🍫
#ilovechocolate #cocoalove #seasaltedcaramel #chocolatelover #chocaholic #darkchocolate #chocolatelovers #instachoco #chocolateaddict #ilovechocolate #chocolateporn #chocolateheaven http://bit.ly/2GpOQlJ




I'll be taking my #ginandtonic in #chocolate🍫 form from now on! Thanks to @divinechocolateuk for creating the ultimate in indulgence - #gandt will never be the same!
🍫
It's actually lemon and juniper but really it's secretly #gintonic flavour. The #70percent chocolate has the perfect balance of juniper for the gin and lemon for the slice in the tonic.
🍫
It's a #limitededition #chocolatebar so grab it while it's available!
🍫
#chocolatelover #chocaholic #darkchocolate #chocolatelovers #instachoco #chocolateaddict #ilovechocolate #chocolateporn #chocolateheaven #ilovechocolate #bestchocolate #amazingchocolate #🍫 #🍫🍫🍫 http://bit.ly/2RRQNJ9
badges
Grammar Warning: I am clearly aware that my grammar is sub par. Please excuse any typos or miss-spelling of words you may come across when reading this blog. There is no need to write or notify me. Thank You Kindly.