September 25, 2013
Mo Cay Vietnam Ben Tre from the Mekong Delta Milk and Dark Chocolate Bars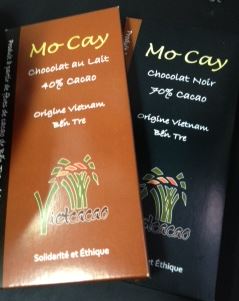 Everyone loves a good chocolate, especially one that comes with an uplifting story. The folk at Vietcacao have one of the most uplifting stories with their work developing the skills of students with disabilities. So not only are they developing the local community through buying their beans, they are also trying to support the local students with disabilities, a segment of the population who are often left behind.
Vietcacao went to Vietnam in March 2010 to assess the construction of fermentation tanks and drying racks. They aren't just making chocolate – they are building infrastructure. The chocolatier Christopher Meyer in Straussbourg and Grimmer in Winzenheim were the first French chocolatiers to work with their Ben Tre beans.
Just doing good work is often not enough as some chocolate companies have found. In addition to doing great work they have to also make great chocolate. While this is not manufactured in Vietnam like Marou, the beans are grown, fermented and dried there, some of the most important parts of making a great chocolate. After this the beans are sent to a place like the chocolaterie A Morin chocolate facility in southwestern France. To my mind, there is nothing wrong in using an external facility to create the chocolate with specialist equipment. This gives greater control and the experts on staff mean you have help if you require it. Or leave your beans in their expert hands and work with them on roast, refine and conch.
So we know the beans are brilliant, the ethics of the company are amazing, the folk like Franc Morin are passionate chocolate geeks but what about the chocolate…?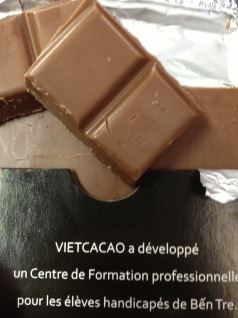 The milk chocolate has delicious malted milk notes with chocolate coming through distinctly. The mouth feel has a texture which to me means a slightly larger particle size but that is no bad thing. There is an intense chocolate flavour with an almost cashew flavour coming through. While there is the background taste of yellow fruit, I just don't get it coming through as strongly – but you certainly know it is there. I think it is difficult to pick out flavours in a milk chocolate. It isn't too sweet though and so I think a really interesting milk chocolate. If you want to help students with disabilities in Vietnam, start buying this as your snacking chocolate. Not only will moving away from a palm oil based chocolate be good for the environment overall, it is delicious milk chocolate.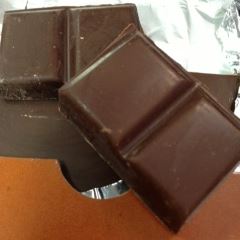 The dark chocolate has that intense nutty flavour from the nose. You immediately smell nuts in the bar and as it starts to melt you get that nuttiness coming distinctly through. Despite that, those yellow fruits that were slightly muted in the milk start to emerge for me, with just subtle bursts through the intense chocolate flavour. There is a light acidity which just catches you on the side of the cheek for that bit of a tingle as it moves towards some coffee notes. The piece is slightly reluctant for me but it still gives a prolonged intense chocolate hit without bitterness.  The finish is long and it lingers on the palate with those coffee notes for quite a while.
Overall I think that while I have never been a Ben Tre fan, these are excellent bars. The combination of great beans grown well and fermented brilliantly with the expertise in roasting and creating the chocolate is magical. This chocolate in milk or dark is delicious and it not only supports students with disabilities but also the local cacao-growing economy. Take a chance on a bit of Vietnam.