October 17, 2012
WIN Geert Veracruysse Chocolate Ganache Box Worth £7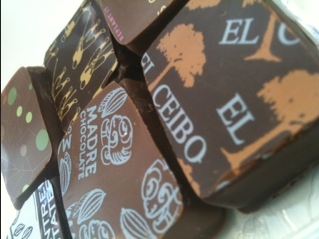 Geert is a bit of a legend in the UK chocolate scene. Full of energy, visiting us for exclusive events then disappearing again, his focus is on creating the best ganache possible from the best coverture possible. He once offered to create a Soma Chuao ganache after I shared some with him but alas I could not get enough bars 🙁
This set of six chocolate ganaches was available at Chocolate Unwrapped and I managed to buy not just one but TWO of these beauties. There is a shipment which is totally limited and for sale at the Maltby Street Market from 9am-2pm this Saturday at Catalan Cooking's stall so rush down and if you're very lucky, the larger £12 size may be on offer as well!
As for these ganaches, I thought I would do a quick description of them since I'll be eating them anyway and maybe if you are inspired you can support a master artisan and buy his chocolates (also helping my good friend who imported them at great risk so she breaks even).
Daintree Estates: a kind of molasses sugar flavour but this is a dark chocolate with a malty edge. OMG I could eat a bucket of these chocolates!
Madre Chocolate: milk on the outside, dark on the inside this has a peppery flavour like pink peppercorns with the chocolate. Nice and a bit different for sure. The jelly was an interesting surprise!
El Cibo: Kind of weird granular mouth feel with a nose of nibs – probably because there are nibs in this one!
Golf Player – I dunno what this is except that it is a praline that seems to have feullitine in it or maybe just sugar crystals. I'm not a praline person and this one is STRONG!
Dots: Another praline this is actually really smooth. Still really sweet but none of the crunchiness I got in the golf player one.
Original Beans: a gorgeous deeply malty ganache with that molasses edge in the sugar. Absolutely beautifully dark but smooth and a bit sweet
Overall, I'd scoff 4 of the 6 in minutes flat. The pralines I'm not as keen on but hey ho!
TO WIN A BOX just leave a comment with your idea about which ethical chocolate ganache you would add to the box. It can be flavoured, unflavoured or wacky but it must be ethical and you need to name it like Askinosie (they buy direct from farmers), Divine (co-operative of farmers in Ghana), Pierre Marcolini (for buying direct from farmers), Demarquette (for buying direct from farmers and helping kids), etc.
RULES:
1.The competition will finish at noon GMT on Friday 19th October 2012.
2.The selection of winner will be based on originality of chocolate selected and any flavour pairings. Any which include chocolate which is not ethical will be discounted.
3.Available to ALL addresses but without guarantee of freshness as who know how long the post will take.
4.No cash alternative available.
5.I reserve the right to exclude entries that I feel are inappropriate or not in the spirit of the competition.
6.Your details won't be passed onto anyone.
7.I reserve the right to remove entries that I believe aren't human created or are an attempt to gain an unfair advantage such as automated entries.