December 31, 2010
Win a Thorntons Milk Chocolate Hamper [CLOSED]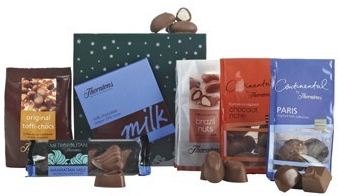 I've been down the shops and LOOK at what I found to give away!  HALF A KILO OF CHOCOLATE!  Well, there's nothing like a STACK of Thorntons chocolate to delight and warm and make you want to share.
Funnily enough, that's just what I did with my large box of Thorntons Classic flavours – I shared it.  Yep – I shared chocolate and I'm going to be sharing even more with you all and I'll be starting with this hamper of milk chocolate!
To WIN this hamper, leave a comment of a new years resolution, leave a facebook comment of a new years resolution or tweet "My New Year's Resolution is to read the @mostlyaboutchoc blog more http://bit.ly/hFyW1I " and I'll draw a random winner on Sunday!

Once this hamper is gone, I'll be starting a different contest each week for people following me on different systems.  For example, I'll be giving away the ENTIRE Green and Blacks range of 15 chocolate bars – 1.5 KILOS of CHOCOLATE – to someone who is on the mailing list.  Not on it yet?  Just sign up here before the contest:
I'll also be giving away a rare Chuao bar, some crazy flavours and more to people following on YouTube, Facebook and Twitter.  Just make sure you're following the blog there and you'll get the details to win!  The mailing list is keyed to the blog so that's all you'll get there (no spam), Facebook I'm a little more chatty on, Twitter I'm very chatty on and YouTube I'm pretty silent on so you can pick your level of chattiness and the chocolate you want to win! 🙂
WINNER!!!  @kohsamuirosie from Twitter has WON the chocolate!