June 18, 2014
Wild Sweets caRaMel Collection Reviewed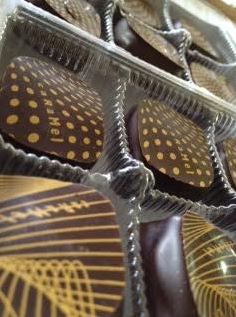 The Wild Sweets caRaMel collection features the classic butter-and-cream French soft caramel as opposed to the runny caramel of the Paul A Young caramel I love. Coated in their exclusive Limited Release Vintage Single Origin Dominican Republic La Red Hispaniola cocoa bean-to-bar chocolate, each box includes 12 custom-designed decor chocolates.
I have to admit, I am not the biggest fan of inclusions in my caramel so I did approach these with some worry. I do enjoy a good caramel though so I thought I'd buy myself a box and see what they were like! The other two boxes I reviewed were gifts but this one I chose 😉
Cyprus: Pecan, fennel seeds, dried figs & Cyprus black lava salt – the flavours come through in the nose right away. The fig adds a crunchiness (seeds) but the pecan is soft. Not a massive fan of the inclusions in the caramel but they are not the worst and I would eat it again.
Andes: Walnut, orange zest, dried cherry & Bolivian rose Andes salt – immediately the orange hits you and stays. I get a weird, almost cinnamon note in there but I'm not sure what the rose salt is meant to taste like. The cherry comes at the end but the orange really hogs the show. The caramel is a Canadian texture favourite again – soft but not runny.
Okinawa: Almond, vanilla bean, dried apricots & Japanese Okinawa salt – sexy and exotic-sounding, I find it hard to pick out flavours past the caramel's flavour.  It was tougher to pick out because it has a more subtle set of flavours. I still find myself wishing for a plain caramel which I could experience with all that buttery gooey caramel goodness just all on its lonesome.
Alaea: Hazelnut, lemon zest, dried blueberry & Hawaiian Alaea salt – this is zingy, citrusy wow but sadly the salt steals the show. My favourite of the box (and I like pecans over hazelnuts in the wild), the caramel has just enough citrus to get into your nose while still leaving room for the delicious caramel.
Overall I would have loved a single naked caramel to showcase the flavours inherent in the plain caramel with the amazing chocolate.
You can buy them online as I did or, you know, visit BC!