June 17, 2014
Wild Sweets pRaliNe Collection Reviewed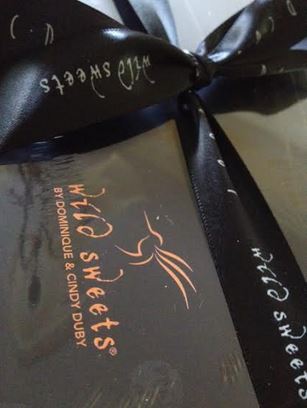 The Wild Sweets® pRaliNe collection is inspired by the Peanut Butter & Jelly classic. Made with their exclusive Limited Release Vintage Single Origin Dominican Republic La Red Hispaniola cocoa bean-to bar chocolate, it includes 12 exquisite hand-painted chocolates which means there are two of each flavour.
The box is absolutely huge so makes an impressive gift with the ribbon and the big box and everything. I actually reviewed this in Toronto because I didn't have enough space in my luggage to actually fit them all in! Mind you, my father and his wife didn't object and I think they rather liked them all. I was lucky to be gifted two boxes and bought one so it was a lucky pleasure I got to try these!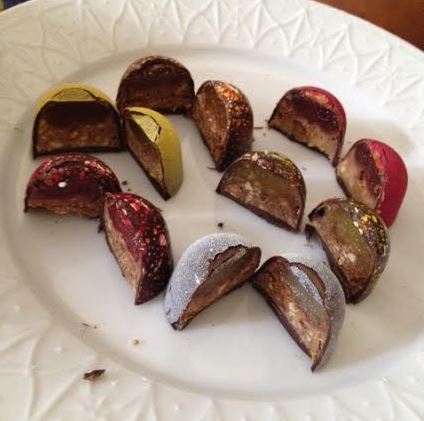 Strawberry jelly & crispy crêpes peanut butter praline – Sharp strawberry is overwhelmed by the peanut butter sadly. It is nice as a PB & J type chocolate but I'm wishing for a little less peanut, a bit more jam. Lots of fun and I wish there was more chocolate as well. I just clearly want more of these!
Raspberry jelly & soft French almond macaron praline – interesting sharp raspberry against the crunchy raspberry jelly. Nice balance of fruit and quite satisfying. *This* is a chocolate I could get behind a box of.
Mango jelly & breton cookies crumble coconut praline – not the biggest fan – the coconut overwhelmes and of course – I'm not a coconut fan so I'm not a fair judge.
Pear jelly & crispy crêpes almond cream crumble praline – nice and balanced flavour. I like the intensity of the pear which holds its own against the praline. It's intense, almost tart wth an explsion of flavour on the tongue.
Apricot jelly & soft French macaron hazelnut praline – nice and sharp and unique but slightly weird in the nose. I like the sharp acidity of the fruit but it is slightly odd. Still really enjoyed it and I think I'd have another one. Not 100% sure though.
Passion jelly & breton cookies crumble pecan praline – interesting – the passion fruit absolutely takes second place to the praline on this one and I'm not the world's biggest fan of praline but this is absolutely amazing. They have done a brilliant job of creating the passion fruit jelly.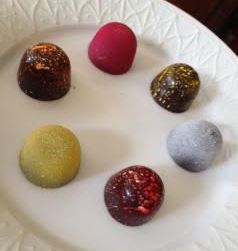 An interesting box of mixed pralines and fruits. Want to get yourself some? VISIT THE SHOP HERE!