October 8, 2012
White Monkey Jasmine Tea Chocolate Truffle by Demarquette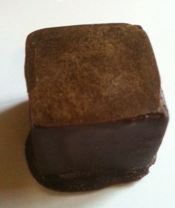 I was the fortunate recipient of one of the first jasmine monkey tea truffles made by Marc Demarquette. The myth is that monks used to train monkey's to gather the tea and this is how it got its name but I don't think it is still done at a commercial level. It may be though.
The Demarquette website says: "The Imperial China Chocolates are hand crafted and made with carefully chosen finest Vietnamese, Malagasy and Venezuelan cacaos that complement each other harmoniously. The cacoas are blended with the extraordinary White Monkey Jasmine Tea, resulting in a perfect combination of long lasting cocoa tones and subtle notes of fresh Jasmine. The result is a light and delicately flavoured center with a thin chocolate couverture layer that adds texture and additional cocoa tones for a most delightful chocolate experience."
These delicate leaves are gently and gingerly steamed and dried. The dried leaf is said to look like that of a monkey's paw. Legend has it that this tea originally grew on treacherous, rocky slopes, making tea-picking a perilous task. The local people grew tired of risking injury for their tea and trained monkeys to forage for the tea leaves instead, rewarding them with food. In honour of the indispensable role of our resourceful cousins, the tea was named 'White Monkey'.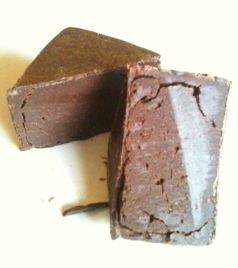 Whatever the story, I know that, like the Royal Merena truffle I'm in for a treat. Demarquete have slightly adjusted their method for creating the ganache so it is a bit lighter, meaning a larger truffle isn't too heavy. I was initially worried about a truffle as large as this but the Royal Merena changed my mind about this method of making truffles. This larger but slightly aerated ganache is absolutely divine.
This truffle is light with a delightful instant melt to the ganache. The flavour of the chocolate comes through and in waves the jasmine slowly builds until it is the pervasive flavour which coats your mouth and goes up through your nose to gently but firmly assert dominance. The jasmine is slightly woody and yet floral without being cloying. It is nothing like some over perfumed jasmine chocolates as the subtle at first flavour takes its time to develop before it rises above the chocolate like a nice cut of tea drunk after eating a chocolate.
This truffle is divine. I cannot give it a higher recommendation than I intend to go online and order a box because I want more and I'm happy to pay for my fix. If you want to try here, here is where it is on the site