October 9, 2012
Godiva Launches Christmas to Kick Off Chocolate Week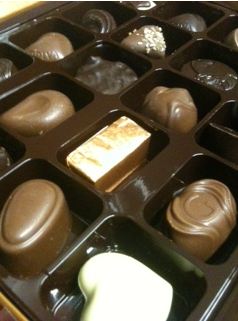 I think that by the end of Chocolate Week I may be all chocolate out yet I found myself drinking a long, tall hot chocolate in the Godiva café within Harrods on the inaugural day of Chocolate Week. Rachael who I know was behind the counter making sure the hot chocolate was perfect and at a table in the middle of the café was the new Christmas collection and a lovely woman from Godiva who walked us through everything.
Godiva are aleays innovating and pushing to keep things fresh and different for Christmas to ensure customers always have something different to try and this year is no different. The Christmas Tree is the theme they have chosen and they have created three distinct flavours of chocolate for the season.
The box for the seasonal collection is beautiful. They have chosen a delicate paper design which has been reprinted on each box. The method of cutting, curling and gluing paper is so difficult and creates something so ethereal it was intriguing to see it copied and reprinted all over the boxes. These seasonal boxes contained the three new flavours: white chocolate and fruits, milk chocolate and almond praline and dark chocolate with cinnamon and nutmeg.
The white chocolate is understandably sweet and I think that the chocolates were a bit warm so it was perhaps not the fairest measure of their quality. The centre was somewhat mousse-y but that was likely the heat of the venue. The milk chocolate had a very strongly flavoured praline which Godiva makes themselves out of almonds. If you read this blog regularly you'll know I am not a huge praline fan. The dark chocolate was perhaps the most Christmas-y  of them all with a thick chocolate base and mousse-y filling strongly flavoured with spices.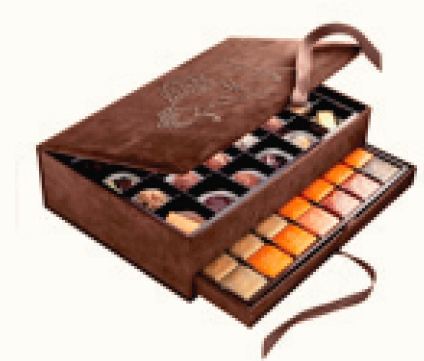 The Royal Swarovski box is a premium gift box containing sixty one pieces of Godiva's signature assortment. The chocolates are stored in a beautiful suede case covered in Swarovski crystals forming the Godiva emblem. This sparkling choice is ideal to give to those with a taste for luxurious gifts at Christmas… and me… you know… because I totally want it as a jewellery box afterwards!
They are also dong some cute little petit desserts in an oval box in a variety of different flavours. These are less Christmas-y and more dinner party. The small desserts are themed on actual desserts and have been constructed in thin chocolate cups, meaning the dessert stands out rather than a thick chocolate shell. This is more feminine they contended and I can see their point but I guess I see this as more of a hostess gift to be shared after the dinner with the coffee. Godiva's theme for this year is a gift for everyone and I can see that there is absolutely a gift for everyone here with the desserts, the pralines and the most exciting thing of all.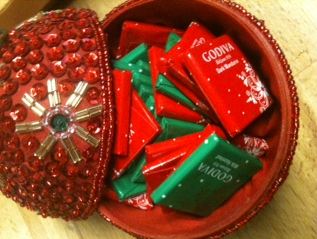 Although this is the Christmas ball in the picture, what was most exciting to me was the pure origin ganache. This is a radical departure for Godiva as their core range is flavoured pralines and they are experts in pairing with flavour and not in creating something from bean to par in its purest form. These ganaches are also complimented with chocolate squares of the same pure origin cacao. They have Venezuela and <CHECK> as you would expect but the less common Costa Rica also makes an appearance in milk chocolate and the most surprising entrant was the Ugandan chocolate square. In a rather high 80%, this chocolate was slightly bitter and so drying in the mouth while having a slight acidity (but that could have been another chocolate coming through). Earthy and dark, this is not an origin I am familiar with.
Godiva have really created a gift for everyone this season but if you dig pure origina, watch the shops as this is a seasonal product only. Once Christmas is past, so will those single origin chocolates.