February 15, 2012
When Charbonnel et Walker Met Appleton Rum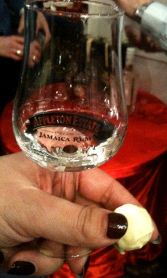 It has been cold in the UK this winter and so when I was invited to the extremely inexpensively priced Charbonnel et Walker evening with Appleton Rum I jumped at the chance, moving a meeting to do so. The evening involved a welcome cocktail, then straight rum for tasting and chocolate truffles for pairing. We were all given a goodie bag of a box of truffles and a small bottle of rum and all for £15 which is the price of a single cocktail in some of the local drinking establishments. These events will be becoming a regular occurrence so I would recommend signing up for one if you like both booze and chocolate (or perfume and chocolate).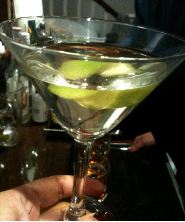 Charbonnel et Walker is the oldest company to have continually traded on Bond St and they have a potentially saucy history. While the official line is that Madame Charbonnel was convinced to bring her chocolates to Britain by the Prince of Wales and once here she teamed up with Mrs. Walker to put the Carbonnel chocs in the Walker box creations, there may be another story. Rumour has it that Madame Charbonnel was one of the mistresses of the Prince of Wales and that is how she ended up in the UK but whatever the reason, she started to revolutionise chocolate tastes.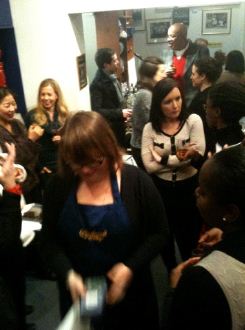 To celebrate the evening of chocolate and rum we did have an official both from the Jamaican embassy and the Appleton company on hand for part of the evening. It just demonstrated how much effort had been put into the evening that such prestigious company had come out for this event. I don't know if all events will have such guests but it certainly was a delightful treat.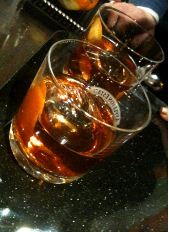 The evening started with a cocktail (or three for some there) made by the second place bartender of the year utilising Appleton Rum in a martini and an old fashioned. Both were delightful and even *I* liked the old fashioned – a rare occasion! The ice was a ball though which was pretty special on its own but the rum was even better. Once we had finished mingling and meeting, the evening kicked off with a bit of a history lesson and information. Charbonnel et Walker specifically target their chocolates at those who prefer traditional English chocolates. With a call out to Paul A Young for his innovation, they clearly stated that they were old fashioned and proud. That and the fact that 1/3 of their sales come from champagne truffles.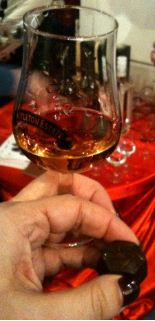 The rum itself we were given in 2 different styles – dark and white. The dark was a 10 year old and to me had notes of raisin, caramel and molasses on the nose with a nice smooth but alcoholic kick to the taste. When I commented on the nose I learned that Appleton's apparently have the first female master blender and her nose is insured for millions. That is several kinds of awesome. This dark rum was unflavoured and paired with several different chocolates. My favourite pairing was with the orange stick which I felt was the perfect compliment. The white rum was flavoured with coconut and paired brilliantly with the vanilla truffle.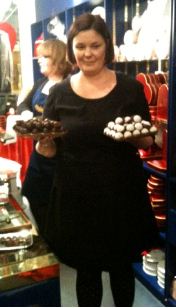 Finally we were able to try the rum truffle in development and had to choose. Having warmed both up, they had a lighter interior and I thought the version without cocoa powder would likely have wide appeal. We'll have to wait to see what they go with in the end.
All in all I can say that given the eight or ten or so different truffles we were given to try plus the cocktails plus the rum plus the goodie bag that this was more than worth the price of admission and I do hope that more people will give these evenings a try!
To get the heads-up on when these events happen, email victoria.leadbitter@charbonnel.co.uk and ask get on the secret event list.