December 29, 2010
Villandry Dark Chocolate Ganache Review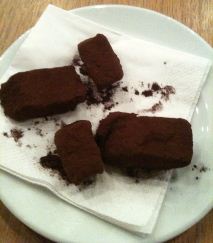 Few things are as pleasurable as spending a lunch with a friend and I did just that at Villandry (thought I went to Vapiano first, dyslexic weirdo that I am) not too long ago.  It had been far too long since I had seen my Canadian friend and we swapped stories over lunch and finished off with dessert.  She opted for the ganache and knowing of both my love of chocolate and my blog, she offered me one of her ganache chocolates.
I am a sucker for a fresh ganache and this was probably about as fresh as I had been able to have for some time outside a shell.  The ganache had been covered in dark cocoa powder which both made it easy to pick up and messy.  Cocoa powder needs to be washed out 🙁 but yum! 😀
This ganache was lovely.  It was dark and delicious.  It was not too sweet and there was very little bitterness to it, making it easy to eat for anyone.  This is not a challenging chocolate but one with refined and unrefined palettes alike will be able to enjoy.  I think these do have to be consumed on the day and are not something which will hold flavour over a period of time and that is where the skill of the chocolate-maker comes in but it is a really delightful, light dessert.