December 28, 2010
Green and Blacks Box of 24 Miniatures Review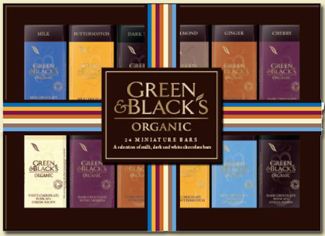 I remember the first time I saw a box of G&B miniatures and the warring sensation of pleasure (yay lots of choice!) and pain (boo not enough chocolate).  I've bought many as gifts but I didn't really get a chance to try any until more recently.
This large box of miniatures is perfect for a few reasons: You can buy one as a hostess gift and almost be guaranteed that you'll get to share; You get a WHOLE chocolate bar to yourself when you do share; They make a great addition to your own party and guests will love them plus the splash of colour they add is beautiful; The box is small and slender so it is easily *accidentally* missed when looking for the gift, prompting the requirement to buy a new one and have that one for yourself later 😉
If you think, though, that these chocolates all taste the same, you'd be slightly off the mark.  Notable absences are chocolate bars where the filling could not be chopped small enough as with the almond bar such as hazelnut and currant.  I have to admit, I feel that the almond bar itself, included in the pack, suffers slightly from the smaller almond size in the chocolate.  The chocolate is the same but with the smaller sized almond it has changed the flavour of the whole bar and how those flavours combine in the mouth. I'm not sure everyone would detect it but as it is my favourite bar, I could.  I'm not saying I'd refuse if offered! I'm #justsayin
The other bars seem slightly different too and I'm not sure if something is different about the chocolate and filling when dealing with the smaller bars.  The Butterscotch seems slightly sweeter than I remembered and the ginger not as hot (and thus more enjoyable).  I'm thinking I may have to do a head-to-head taste test 🙂
Also missing is a household favourite bar – espresso.  Husband has now been subjected to 3 different G&B miniatures boxes and he's not a fan of the lack of coffee chocolate and so claims he "makes due" with the other bars.  *haurmph* "Makes due" with _my_ chocolate! I do enjoy the intense coffee flavour which overpowers everything else – including the chocolate!
All in all this is an absolutely fun box and perfect for gifting.  It seems to keep selling out in my local supermarkets and so I can only assume that others feel the same.  Green & Blacks still do the new milk and white miniature collection as well as the original miniatures selection so you can get smaller boxes of delicious chocolaty goodness as well.