February 13, 2011
Tomorrow Is Valentine's Day…
… and I already know that it is either flowers or nothing.  I've been told no cards and really I guess after 15 years I shouldn't be surprised or upset but hey – a girl can dream.  Husband doesn't read this so what he doesn't know (and why I've posted this late) is that he is getting a heart box made of chocolate with marc de champagne balls from Artisan du Chocolat.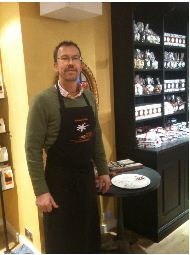 Had a lovely shop at Liberty on Saturday but a pretty poor one at Selfridges.  I had staff ignore me, turn away from me, run away from me, be ignorant about things in their department and be downright rude.  At least the Pierre Herme staff were lovely.  The macarons weren't (chocolate one was decent) but the staff were.  Don't buy the chocolates without check the review though!  At Liberty I was lucky enough to run in to Damian Allsop who was showcasing his chocolates.  I had a chance to see him in action and take a photo of him at work.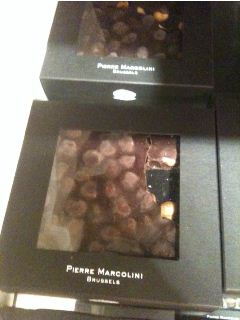 Still, husband has a valentines gift and I don't.  I pity the poor person who gets this bloomed chocolate from Pierre Marcolini which was found, partially eaten, on the self at Selfridges Oxford St.  Not a gift as much as a smack in the face.  But I'm apparently not alone.  According to those lovely chocolate pudding experts at Gu I will be one of many women who will be unhappy this valentines day.  A new survey by luxury chocolate pudding company Gü Chocolate Puds, has revealed that over half of women in a relationship expect to be sorely disappointed this Valentine's Day with their partners efforts in the kitchen.  Quite possibly also by their gifts :-/  55% of those surveyed rated their partner's cooking as average or below. Maybe their gift buying as well… Almost a third of men (30%) who have ever prepared a Valentine's Day meal admit to a cooking disaster in the kitchen. And maybe one in the gift-buying section of VDay.  Apparently men forget to buy the correct ingredients and run out of time while cooking (and maybe gift-buying).
Their survey also revealed that:
•    25-34 year old men are the most accident prone cooks with almost 1 in 5 admitting to a Valentine's Day cooking accident. Thank goodness husband is in the Saga set
•    Burning and overcooking a Valentine's Day dish was the most common mishap among these men (aged 25-34). Mind, I do that all the time
•    15% of 18-24 year old males confessed to passing off ready prepared food as their own when trying to impress their partner. And really, who hasn't?
•    1 in 10 men who have cooked a Valentine's Day meal abide by the 'ten second rule' – dropping food on the floor but believing it's ok to serve it if it's picked up in under ten seconds. Because somehow the germs, dirt and whatnot don't stick in less than 10 second.  Yaaa… 😛
•    Nearly a third of women (30%), aged 35-44 who have had a partner cook for them, have lied to spare their partners feelings saying they enjoyed their cooking on this special occasion. Of course.
Wales produces the most competent male cooks with only 4% experiencing a calamity with a Valentine's Day meal.  And my husband is Welsh.  But he's apparently not cooking for me or buying me a gift (yes, I'm bitter).
When it comes to food, all men know that chocolate is the way to a women's heart, but as austerity continues to dominate, it is apparently likely there will be a dramatic increase in couples eating in this Valentine's Day. Or not and no gift either.  With this in mind, Gü, for the first time ever, is offering a helping hand for men anxious to impress in the kitchen with its Valentine's Day Hotline. And maybe a bit of gift advice.
On Monday 14th February, Gü Head Chef, Fred Ponnavoy, will be on hand to answer callers' Valentine's Day cooking conundrums and chocolate crises. Simply call 0800 0113 217 or email valentines@gupuds.com between 9am – 6pm to chat directly with Fred and hear his tips on creating a dish worthy of your loved one. And maybe a bit of gift advice.
Am I bitter by being told I wasn't going to get a gift?  Ya, maybe a bit since I spent an hour picking his. But he also admitted that he didn't want to buy me "yet more chocolate".  Those Easter eggs are for review – there is no valentines chocolate left.  None.  Sad but true.