February 11, 2011
Hotel Chocolat's The Love Book Review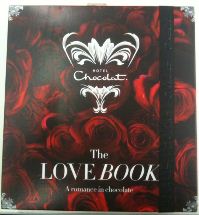 I'm a sucker for pretty packaging and when I opened this I absolutely loved the cover.  Festooned with roses, the image is perfect for the product which is quite firmly targeted at the lovers market.  The box itself is a story of two parts only – one light and one dark.
A true romance with chocolate is saved best for oneself but this story has a sweet twist in the tale – two hearts are secreted within to enamour even the least ardent chocolate fan.   The darkness we have all felt is punctuated with the sweetest pecans and even sweeter caramel bits.  The light, which can be too bright, has been toned down with cherries and round balls of shortbread.
When you open this box, there is a heart card inside and mine said "Ask me what pleasure is and I will know you've never experienced it. Pleasure needs no words unless it is absent. The same is true of happiness and love itself." Such a sweet sentiment.  Since I had to tear off the ribbon it is cool that I couldn't address it to my loved one but it would have rocked as a tiny gift card 🙂
The chocolate itself inside was a tale of two cities of chocolate.  One of darkness and one of light.  The darkness was sweetly punctuated and the light fruitily mellowed.  Of the two, the light captured my heart, mind and mouth.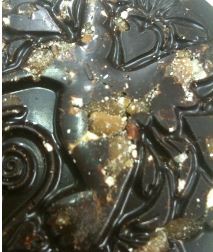 The dark chocolate I found to be a bit dry and, the best work I have for it is tough.  It was as if in order to ensure structure they had created a lower cocoa butter content dark chocolate.  Where the caramel was it was OK but still difficult to get through.  The chocolate was OK but certainly not the quality of the Purist range which I have become a real fan of.  It is still a nice dark chocolate which is not challenging.  The flavour is slightly flat without the complexities of the Purist range but that doesn't make it bad.  The thickness of the heart means you are getting, I believe, 125g of mostly chocolate.  A boast few other chocolate hearts can made as they use more filler, less chocolate.  A dark chocolate fan will not help but enjoy this.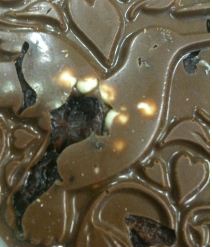 I have to admit, while I loved the caramel in the dark heart, I have been once again been seduced by the light.  This is very sweet but has a slight molasses flavour.  This isn't Soma so I didn't get too in-depth with the analysis of constituent flavours but it was yummy.  Sweet but yummy.  I was OK with the cherries and I am *not* a fruit in my chocolate fan.  Of course, Hotel Chocolat have taught me not to fear but look forward to it but I'm still unlikely to trust anything more than HC's Christmas Fruit & Nut wreath
Would I buy this?  It is a *lot* of chocolate (250g total) to get through so I might not buy it to polish off by myself but I could be tempted to buy it for husband knowing full well he'd share 😉