September 19, 2015
Ultimate Perfect Popcorn Recipe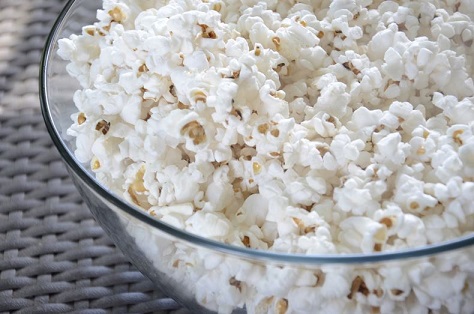 If Gwyneth Paltrow can do it, so can I.
I had my mom over to visit and I did what I always do – prepared popcorn to settle down and watch Great British Bake-off with. I pretty much never use microwave popcorn, preferring to make it in a pot and so that is exactly what I did. When I served it to my mom, she said she had forgotten how much better popcorn made in a pan was over microwave popcorn.
I hope you'll try this recipe and experience the same.
Ingredients:
2 tbs rice bran oil (my choice but you can use canola or sunflower)
1/2 cup popcorn kernels (around 100g)
Put the oil into the cold pan. Use one that will hold around 1.5 – 2 litres of liquid.
Add 3 kernels of the un-popped popcorn
Place on medium to high heat and cover
Wait until all three kernels have popped
Add the remaining kernels to the hot oil and recover
Shake the pot to distribute the kernels and oil evenly in the pot
Allow the popcorn to pop, shaking occasionally
Once the pops reduce, remove from heat
Pour the hot popcorn from the pot into a bowl and garnish. I prefer the traditional salt and hot butter – DELICIOUS!
Want something a bit more jazzy? Try Helen's Speculoos Popcorn