September 23, 2015
Lily O'Brien's and Jilly Goolden Create Masterful Wine and Chocolate Pairings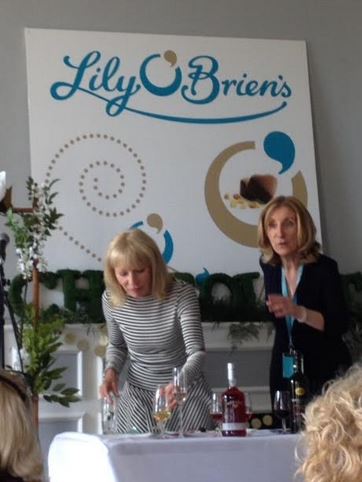 "…and a WOOSH of elderflower straight up your nose" With those words echoing through my mind I remember thinking how silly Killy seemed and yet it was those words which revolutionised the way we talk about wine and really, I think, made it more accessible to the consumer. That better understanding created a nation of pickier wine drinkers and elevated the palates of the nation.
So it was with great pleasure that I popped alone to a masterclass in matching Lily O'Brien's chocolates with a selection of interesting and delicious wines and drinks mastered, of course, by Jilly Goolden. I sadly spent most of the masterclass in the back of a cab in unexpected traffic but it was fab nonetheless for the 2 pairings I got to.
Lily O'Brien's Chocolates started life as the brainchild of Mary Ann O'Brien who, having recovered from a debilitating illness in the early 1990s, discovered her true passion for all things chocolate. She honed her chocolate-making skills among world class chefs and chocolatiers in both South Africa and Europe before starting her own mini enterprise from her Kildare kitchen in 1992. The passion that first inspired her chocolate honeycomb hedgehogs is still present in every aspect of the business and family values remain at the very core of Lily O'Brien's. Based in the heart of Co. Kildare, Mary Ann and her team continue to develop recipes and push Lily O'Brien's forward..
Jilly Goolden is one of the UK's best known and most and popular wine critics. She is widely known for her imaginative and wonderful wine descriptions, which captured the public's imagination when she was resident drinks expert on BBC2's Food and Drink for 18 years (MY GOSH!). The way wine is described today was introduced by Jilly on Food and Drink and has now been comprehensively adapted around the world. She was the first to liken the scents and flavours in wine to those her audience would recognise; "a whiff of hot buttered toast" being more evocative to the taster than "pedigree and finesse". "I aimed to describe the taste of the wine and not dwell too long on its pedigree" she says. Thank goodness she did as otherwise we would still have fuggy and inaccessible wine people talking fuggy and inaccessible wine language.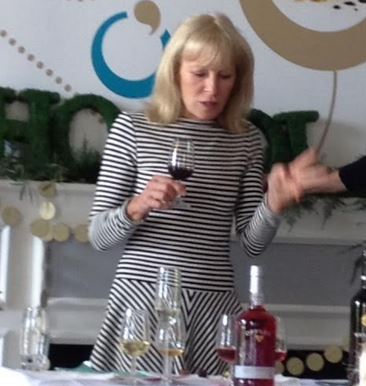 But on to the pairings. Jilly has paired the chocolates with accessible and affordable wines and cocktails we can all get. None of this expensive only-from-a-wine-merchant stuff – just good quality decent wine.
Chocolate and Wine Pairings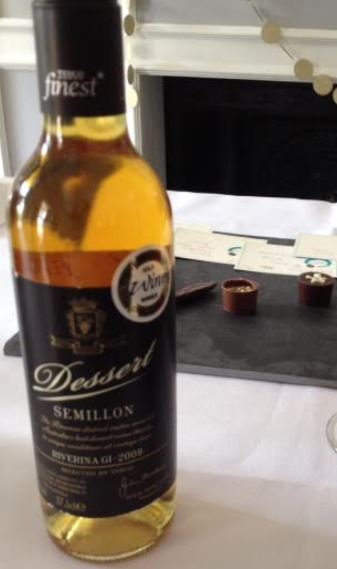 Lily O'Brien's Zesty Orange Chocolate – Rich chocolate ganache infused with Brazilian orange oil and tangy orange pieces smothered in milk chocolate Paired with Tesco Finest Dessert Semillon 2009 37.5cl – £6.79 – South Eastern Australia "The chocolate is infused with vivid orange notes which, when combined with this dessert Semillon, magically call to mind an exotic orange liqueur. The wine is honeyed; honeycomb-intense with notes of bottled peaches and spun sugar. The pairing with the zesty orange chocolate is intense and seductive like alcoholic marmalade."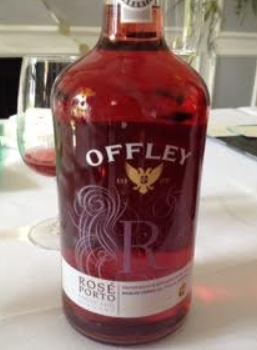 Lily O'Brien's Crème Brûlée Chocolate – Sweet vanilla custard truffle on a layer of smooth caramel in a milk chocolate cup topped with white chocolate and sprinkled with caramelised sugar. Paired with Offley Rose Port 75cl, Waitrose – £11.99 "Creme Brûlée flavours paired with chocolate are a natural marriage, with the grilled banana hints coupled with Devon-rich toffee. Finding a perfect wine match adds a stroke of intrigue, and this funky new rosė Port, blossomy and suggestive of grape nectar and oranges stuck with cloves, fits the chocolate like a velvet glove. Perfect…"
Lily O'Brien's Praline Perfection – Praline combined with caramelised hazelnut pieces in a sweet white chocolate cup topped with dark chocolate and hazelnuts. Paired with Sainsbury's Asti 75cl – £5.50 – Italy "This pairing is sublime! The creamy nuttiness of the chocolate – a little like a sumptuous bedtime drink- is perfectly complimented by the headily frivolous, intensely grapey sweet sparkling Asti Spumante. The Asti adds a little ripple of acidity to the chocolate and highlights the creamy, nutty notes."
Lily O'Brien's Creamy Caramels with Sea Salt – Thin smooth discs of milk chocolate filled with smooth caramel and just a hint of sea salt. Paired with Morgenhof Estate Chenin Blanc 75cl, Waitrose – £11.99 – South Africa "From this subtle chocolate you get a little catch of sea salt on your lips, like a sea breeze, before the caramel coats your tongue. Daringly, I've matched this with a dry wine, the stewed apple and cashew notes in the wine broadened by its partial fermentation in creamy French oak. The saltiness of the chocolate bridges the gap between the dry and the sweet, the flavour emphasis subtly tipping from dry to sweet, sweet to dry in your mouth."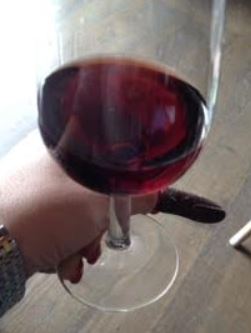 Lily O'Brien's Stem Ginger Batons – Lily O'Brien's famous dark chocolate recipe fused with real pieces of stem ginger. Paired with Mavrodaphne de Patras 75cl, NV, Tesco, £4.99 – Greece "This grown-up chocolate with its snap of sweetly coddled ginger calls for an unusual wine. Mavrodaphne is a strong, sweet red with notes of mince pies and simmering jam. Pairing the ginger baton with this sweet red wine brings the ginger notes to the forefront, then in comes the dried fruit element from the wine deepening and broadening the flavour combo."
Lily O'Brien's Raspberry Infusion Cup – White chocolate truffle infused with raspberry on a bed of raspberry compote, smothered in rich dark chocolate and topped with raspberry pieces. Paired with Mount Difficulty Bannockburn Pinot Noir, 75cl, Waitrose, £19.49 – New Zealand "Raspberry to the fore! Pairing the intense summer pudding scents of this oaky Pinot Noir with its toasted chestnut overtones, with the raspberry and chocolate flavours introduce a "sweet and tart" marriage, the flavours complimenting each other like apple and cheese."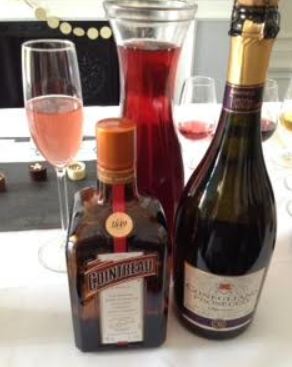 Lily O'Brien's Key Limey Pie – An award-winning chocolate with zesty lemon curd topped with lime infused truffle, smothered in dark chocolate. Paired with Pointsettia Cocktail – a brilliant combination of Prosecco, orange liqueur and cranberry classic. "This popular chocolate has an intense limey flavour, like crystallised limes and is true to its inspiration, but with the added creaminess of chocolate. Natural limey acidity is not a natural partner for wine, but makes an inspired flavour fusion with Pointsettia (or just cointreau and cranberry if you prefer), the orange from the liqueur contributing a zesty edge while the lime dovetails in perfectly with the cranberry. A great Christmas indulgence."
Lily O'Brien's Double Chocolate Truffle – A combination of single origin 68% dark chocolate layered with 55% dark chocolate truffle smothered in milk and dark chocolate. Paired with Vin Santo di Montepulciano Crociani 37.5cl, Waitrose – £19.49 – Italy "This unusual dessert wine, nutty on the nose and with a hint of orange skins is made using grapes that are dried on straw mats in a breezy loft. Combining the orange and apple hints in the wine with this rich creamy chocolate (reminiscent of the most wicked hot chocolate you've ever tried) accentuates the orange notes in the wine and gives a zesty note to the chocolate. An exotic combination, the fusion of opposites."
Lily O'Brien's Passion Fruit Posset – White chocolate truffle infused with passion fruit, wrapped in milk chocolate. Paired with Seriously Plummy Grand Reserve Maury 37.5cl, Waitrose – £10.99 – France "Creamy milk and white chocolate contrasted with a dash of zingy passionfruit contrast excellently with this powerful sweet wine – which lives up to its plummy name. Though sumptuous, there is a lovely acidity in the wine which matches the zing of the passionfruit."
So there you have it – get on the phone, invite some friends around, task them with a single bottle, you supply the chocolates and BOOM – party central 😉