July 13, 2011
Turtles, Caramilk & Jersey Milk Chocolate bars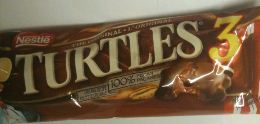 Turtles
Ooooooo I love Turtles! Turtles are the one chocolate I love that is the worst for me. With a huge dollop of caramel, pecan pieces and smothered in milk chocolate, Turtles are just a sugary, fatty treat I love to eat. Of all the junk chocolate this and Laura Secord French mint are the ones I keep coming back for. Of all the chocolates, this at least has stood the test of time.
&mbsp;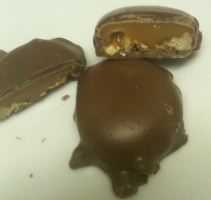 Well, Turtles have stood the test of time in my mind at least. One of the things I love about them is the sweet nutty-ness of them. They are awful and delicious and bad for me and I can't really stand more than 2 in an evening but I still love them. I love these things. They aren't top notch and they leave a weird aftertaste in my mouth and the chocolate isn't my favourite but I love them.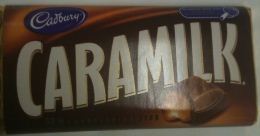 Caramilk
This chocolate I have fond memories of "unretouched" images with people putting hands in front of camera lenses to stop then photographing the secret of how they get the caramel into a caramilk bar. I spent a whole heck of a lot of time trying to figure it and I figured that they had to freeze the caramel, fill the mould, drop the frozen caramel in and it sealed itself up.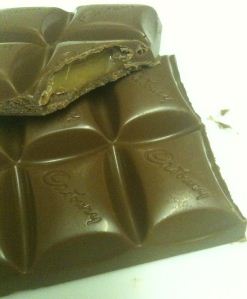 The chocolate here is a bit chewy and not the topmost quality but I loved the caramel interior. I always have. I just can't take the chocolate now I've been eating the good stuff. However I just loved this as a kid and now that I can't take it as an adult I feel like I've lost something. I do still have Green & Blacks Caramel 🙂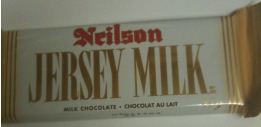 Jersey Milk
I remember when I was growing up going to the "Ex". It was the Canadian National Exhibition, CNE or the "Ex" in Toronto. At the Ex there was a food building and in the summer I got to go to the Ex and to the food building and it was full of delights. The food building was where you could get chocolate bars cheaply. Oh ya… candy and chocolate and all sorts. The worst part was choosing. Do I pick the Twizzlers and Jersey Milk and Life Savers or some other mix? But joy of joys it was delightful torture.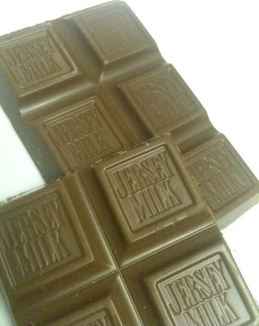 Jersey Milk used to be thinner and I could swear it used to be richer with a different flavour. It used to be this awesome treat and it seems to have changed. I'm just not finding the milk chocolate all that different than others. It used to be distinct and different and now it just feels like more of the same. I don't know if I would have enjoyed this new bar as much if this iteration was around when I was a kid. It was a big part of my childhood and I'm kind of disappointed now but as I have said before – you can never really go back.