September 23, 2014
Travelling and Planning – Comparing Flights & More with Amadeus.net
I like a bargain but finding the cheapest flights home to Toronto is often a bit of a gamble. What if the airline isn't listing their flights yet with the site I'm using? How do I know when it is usually cheaper? Is there any way to get the best flight at the cheapest price without going through every comparison tool on the planet?
Well, there is a way but it's a bit of a cheat. Use Amadeus.net to compare flights and you get a somewhat secret tool with lots of data. Amadeus.net is a site developed by one of the few companies who supply flight software to the airline industry and so they have all the data about when flights get more and less expensive. This means that without going to any flight comparison sites who want to sell me a flight and may increase the price based on a search and abandonment, Amadeus.net lets me find the cheapest flight without causing changes in the price.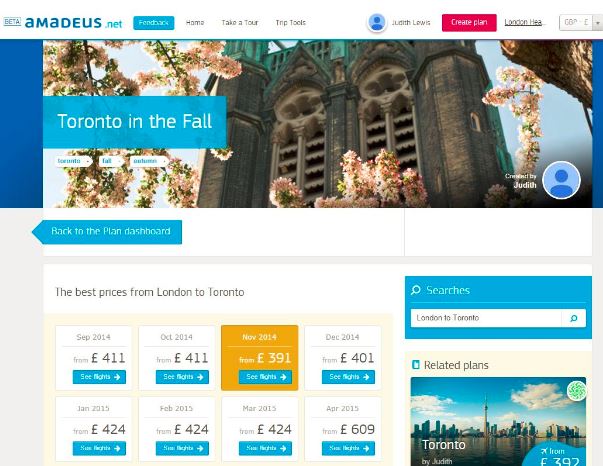 Not only can I see which month will be the cheapest (looks like November – who wants to visit Toronto in the season of cold and possible slush? Yuck!), I can also within the month check out which the cheapest days are to travel: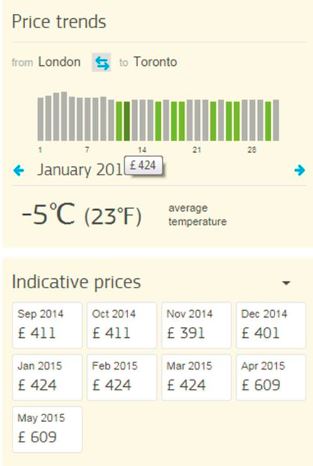 But these are just trends. My little sister is going to have her second little one in late January. Now, I know the trend puts the flight costs at around £424 but what is Amadeus able to pull through from its various customers?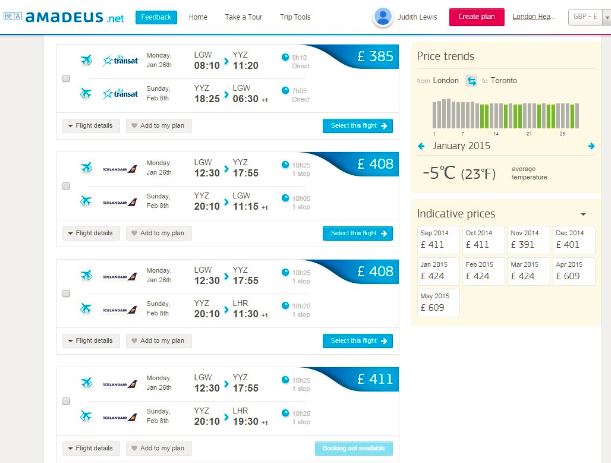 Oooooo nice! I've got some pretty deeply discounted flights if I'm willing to either fly Air Transat (the last time I did I was delayed in Montreal during refuelling) or Iceland Air (if I don't mind a quick stop in Reykjavik). Since I'm going to visit my little sister and her new baby I think I can cope with Air Transat for one visit – I'll just pack snacks just in case!
But I'm still deciding and gathering info – how in the world am I meant to remember all of this? That's where Amadeus.net's trip planning tool really comes in to its own. I can pick my ideal flights and save them to my plan. In this way I can start choosing which flights I'm going to consider, which times are right for me and the possible prices. I say possible because this is not an actual booking system as I mentioned before – I have to go elsewhere to book and then I know how low the price could be so I can shop around 😉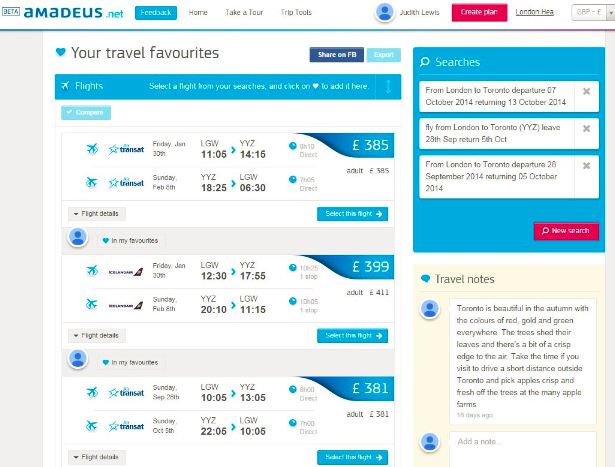 While I love Toronto in the fall, the birth of my new nephew or niece (I am hoping for a girl but I would spoil her rotten!) in late January is way more important and with Amadeus I can start my planning in the snatched moments of spare time I have, save the details, chat to husband, make a decision and then book and all without worrying that prices are going to suddenly change based on my history.
Give Amadeus.net a try! Start here with Creating a Plan and then once you've got your plan, use their Trip Tools like the Subway Maps or Currency Converter – nice, hunh? So go on – compare flights on Amadeus.net now!