September 22, 2014
Idilio Chuao Chocolate Bar Reviewed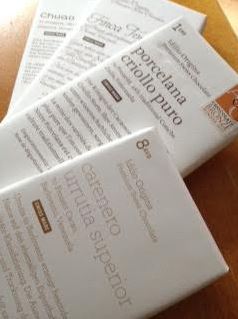 I was given four bars by the company themselves to review so I've chosen to do them individually so it's easier to find information on them in search 😉 The company's name "Idilio" apparently originally comes from the Spanish (not SwissGerman) word meaning a short poem celebrating the romance of living at one with nature, a sweet experience, or small treasure. Kinds sweet and quite nice considering the company makes chocolate that is an extremely sweet experience.
The beans for this bar are from Choroni, Venezuela which is an extremely short distance from Chuao proper. These beans were made into a 72 percent chocolate given 48 hours in a traditional conche.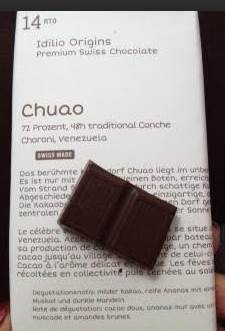 I'm a fan of Chuao by Soma so I'm a tough judge of Chuao chocolate and Idilo underwent my same scrutiny. Their own website says: "The famous village of Chuao cocoa is located in the unspoiled jungle on the Caribbean coast of Venezuela. It is only with Lanchas, small messengers, accessible and has always lived on cocoa cultivation. From the beach, the trail leads through shady cocoa plantations to the village. Due to the remoteness a unique, delicious cocoa mixture has developed. The cocoa beans are cultivated, harvested and dried on the central church square traditionally in the sun by the whole village together."
This chocolate is immediately smooth and creamy but the nose doesn't have the red fruits I would normally expect. It is gorgeously mind but with none of the dried red fruits and acidity I cherish in my chuao from Soma. Don't get me wrong, this is a gorgeous chocolate in and of itself but I probably would have stuggled to have recognised it as a chuao.
Still this is a gorgeous chocolate and well worth buying. You can buy it online at www.idilio.ch plus you can read about where you can buy it locally.