March 8, 2013
Thorntons Black Forest Gateau Easter Egg Review
It's Easter which means my office and I are all gaining weight because of the sheer volume of eggs. If it wasn't the Divine honeycomb bees that I swear went so fast I was almost killed in the rush, to the Carluccios eggs that everyone struggled with, resorting to a pair of scissors and a hammer to get in to. The office now awaits my arrival to see what chocolate I have with me this time.
Today I'm reviewing the Thorntons Black Forest Gateau egg. This rather large egg is studded with pieces of cherries was one of the different British made eggs I managed to secure for review from their lovely PR people. I'm certain it must count as at least one of my 5-a-day 😉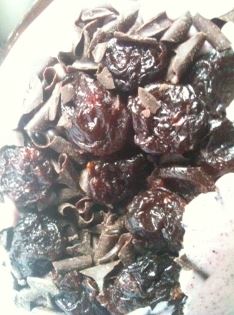 There are a *lot* of cherries and they are slightly sweet but I have to admit the dark chocolate was a bit bitter and I wasn't as big a fan as I am of other dark chocolate eggs (like Betty's). The cherries to help to make the dark chocolate a bit sweeter and I think dark chocolate is an excellent option to get kids (big and small) off sugary milk chocolate. There are a lot of cherries and there is a *LOT* of chocolate so anyone if going to be nibbling away at this egg for ages…
I gave it to the office after I had tried it and unlike the 1kg milk chocolate egg, this one took a little longer to vanish. It absolutely had fans but unlike the milk chocolate they ate less. Now, in my opinion this is because dark chocolate satisfies and leads to less snacking so people are thus less likely to get fat on dark chocolate.
What did I think of the egg overall? Good value for money, very nice taste and those cherries were yummy. For the price it is excellent value – look at how thick it is!