March 7, 2013
Charbonnel et Walker Dark Chocolate Champagne Easter Egg Review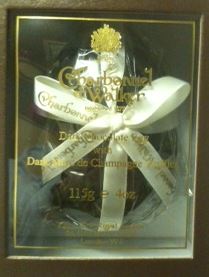 Charbonnel et Walker, for those who do not know, are the chocolatiers to the queen. According to an inside source, there are chocolate in pretty much every room of the residence that the Queen is in. Her favourites are rose creams apparently and the late queen mother's favourites were violet creams. Both are super sweet but I enjoy them both. And the Pink champagne truffles.
A new champagne truffle recently burst into the scene – the dark chocolate champagne truffle – and it created quite a stir. Dark chocolate lovers had for ages often had to settle for a very sweet chocolate if they wanted to opt for a marc de champagne truffle. Finally they had a marc de champagne truffle but what about at Easter…?
This Easter, why not buy local from a company who produces their chocolates in the UK, using a UK head chocolatier who helps develop all their new flavours. Why not choose chocolates from the British chocolatier with a royal warrant? Choose a dark chocolate mark de champagne truffle egg from Charbonnel et Walker!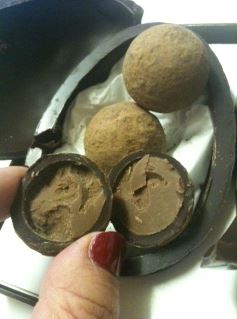 The dark chocolate, for me, is slightly drying but many dark chocolate lovers prefer this slightly bitter flavour I've found. The egg has a high polished look so no tempering issues here. There is a fin pattern on the outside of the egg, giving it a bit more interest that a simple plain egg and you know that hidden inside is going to be a champagne truffle treat.
The dark chocolate marc de champagne truffles are quite different than their extremely popular pink champagne truffles. These are a darker but still boozy treat. As soon as you bite into one or cut one open as I have you can smell the booze. Eating one is a darkly boozy treat.
This Easter, why not choose something British made. Choose a chocolate Easter egg made by the chocolatiers to the Queen – choose Charbonnel et Walker.