December 29, 2011
The Chocolatiers Table from Hotel Chocolat Review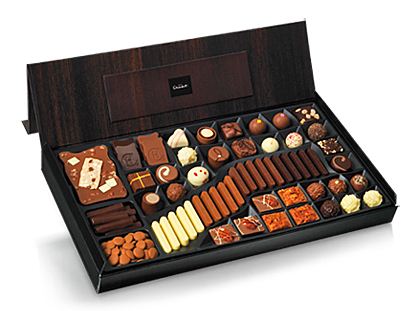 What could be better than to arrive at a friend's house and see this box of chocolates as the centrepiece of your friends table of delicious nibbles? Perhaps having this box arrive at your own home and having it al to yourself?  Well, truth be told this is a *lot* of chocolate and you'd be hard pressed to eat it all yourself which makes it the perfect box for sharing.
There is a full, amazing 750g of chocolates in this lush box with a selection of 65 pieces of chocolate. Just like the sought-after chef's table in restaurants, this chocolatier's table is an utterly impressive spread designed to give you a taste of every type of chocolate. From dreamy ganaches, nutty pralines and zingy fruity recipes to mellow caramels, gorgeous single estate chocolate and more this is an experience you (and I hope your guests).
There is a slab you can indulge in or chop up and share… or just take a big bite and it'll be yours without argument (unless your spouse bites from the other end 😉 ) but hey look at that – some plain mini slabs to share – no trouble then! And there are buttons, batons and those cool feulitine things I have no idea how to spell but love to eat. Truffles, eaton mess bits and so much more there really is plenty to share as well as scoff yourself.
Whether on a New Year's feast table, twelfth night table, birthday party table or whatever the celebration, this has to be one of the best treats you could possibly offer your guests.  Why not make it a centre piece at your next celebration (and invite me 😉 )