December 24, 2011
Soma Twilight Forest Bark Review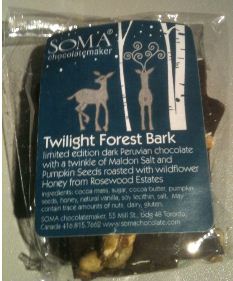 Limited edition dark Peruvian chocolate with a twinkle of Maldon sea salt and pumpkin seeds roasted with wildflower honey from Rosewood estates. Ya… you read that right and it is mine, not yours.
There's no sharing with this small bag of ultimate bark. This is like something magical which is ephemeral – it is here and then gone quickly but the memory becomes something larger than the thing itself.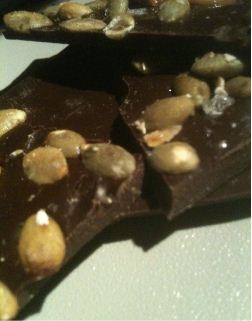 This chocolate bark was delicious.  How delicious you wonder..?  Well balanced with sweet, salty & chocolaty flavours against a backdrop of sweetly flavoured pumpkin seeds. Sheer delight with the flavours a cacophony of warring flavours all vying for your attention. This is not harmony but chaotic discord. This is flavours battling it out in your mouth.
This is epic and it is delicious and mine and by the time you read this it will also be sold out but who cares – buy something equally awesome from Soma!