August 5, 2012
Sunday Surprise Competition [CLOSED]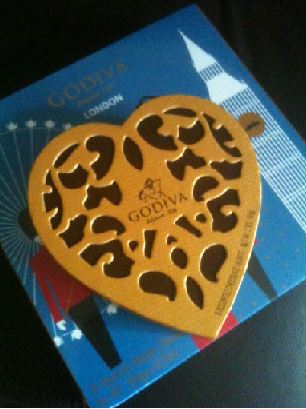 I have 2 boxes of Godiva chocolate to give away and it took me awhile to figure out a way to give them away. I also found pink champagne truffles and chocolate covered cocoa nibs but they expired last month sadly so I best give away these Godiva chocolates!
So I think I should make it easy but I'm having trouble figuring out a Facebook entry element I can count. Well I can at least do Twitter and here so for a chance to win TWO lovely boxes of Godiva chocolate which I will mail to you (so UK only) just do the following:
For one entry, leave a comment below detailing what your chocolate fantasy is and include your twitter handle if you're going for the second entry below. For example my chocolate fantasy would be to be fed Paul A Young sea salt caramels by the Canadian beach volleyball coach on individual gem encrusted gold platters while relaxing on a couch, fanned by other hunky men with Soma Chuao in a chocolate fridge and Lalaho LaKyrsiew Garden tea gently warm and perfectly brewed to refresh my palette with.
Once you've written and posted your chocolate fantasy, you can get a second entry if you indicate your twitter handle in the comment by tweeting exactly as follows I've entered to win 2 boxes of Godiva chocolates on the @mostlyaboutchoc blog & you can to (after reading my entry!) http://bit.ly/QDBZNo

I'll draw winners on Saturday August 11 at noon GMT – GOOD LUCK!
The rules:
1.Random.org will be used to choose the winner.
2.The competition will finish at noon GMT on Saturday August 11 2012.
3.The selection of winner will be based on randomness among qualifying entries.
4.Only available to UK mainland addresses.
5.No cash alternative available.
6.I reserve the right to exclude entries that I feel are inappropriate or not in the spirit of the competition. No pornographic comments please.
7.Your details won't be passed onto anyone else.
8.I reserve the right to remove entries that I believe aren't human created or are an attempt to gain an unfair advantage such as automated entries.
Thanks to Loquax for the guidance on competitions!