August 2, 2012
Damian Allsop Eat London Flavour Changing Milk Chocolate Bars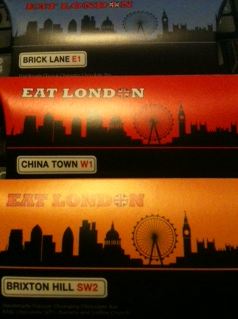 I was lucky enough to get my hands on a complimentary full set of the bars and this is the milk chocolate set which includes a gold medal award winner. You can check out my review of the dark and white bars OVER HERE.
I went to the Damian Allsop site to try and understand a little more about the range but alas there was little information. There was a bit of information which was: "These unique bars are all made by hand in our studio, just outside Tunbridge Wells, using Valrhona chocolate and fresh, authentic ingredients. I make my own crunches and crisps to add texture and also to create a delayed release of flavour, so they change flavour as you eat them. Like walking in London, each step takes you to a different place, so with every chew you will change what you taste.  Discover London in a new way….."
With the Olympics here there is no better time to try these bars and travel all around London with your taste buds. One of these is already a gold award winner so you know this collection is a winner from the start.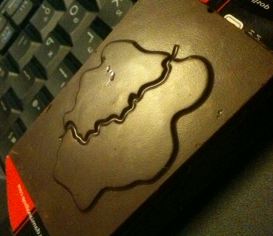 China Town – roasted peanut, soy sauce and fresh ginger in milk chocolate – OK I have to admit despite the GOLD award this bar has won I was worried but I needn't have been. The flavours are subtle and aren't aggressive. The ginger is constantly there in the background but the peanut is balanced with a sweet flavour and I can't taste the soy sauce but just knowing it is there rocks. It is just really amazing and it has a complexity other bars don't, using a higher quality coverture and smaller, more manageable size. A must for Olympic visitors to celebrate China's many wins!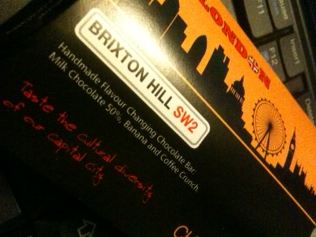 Brixton Hill – banana and coffee crunch in milk chocolate – for those of you who follow me on twitter, you may remember the banoffee truffle incident. It is for this reason I decided not to try this bar. Frankly I feel that I should suffer from my banana allergy as much as I do but a swollen tongue and mouth are simply too scary. You'll have ti imagine how awesome this one is!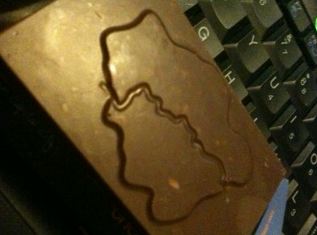 Brick Lane – mango and basmati rice chips in milk chocolate – wow – I'm loving the crunch and I'm loving the mango all wrapped up n a milk chocolate package. This is a constantly shifting flavour combination – not sure but I may like this best of all. I mean, China Town was really different and fun but this is just all around yummy and no more spice or heat – just crunchy and sweet yummy goodness.
All in all I think the collection is fantastic. You should get some and EAT LONDON for yourself 😉