April 12, 2010
Soma Microbatch Black Science and Dark Fire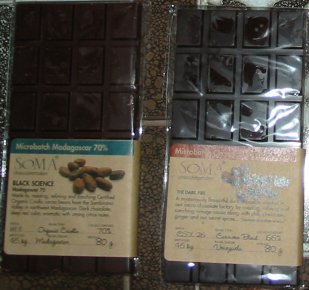 Everyone who knows me knows I love Soma chocolate and hate their awful customer service which has now been fixed by the departure of someone!  YAY!  They have amazing customer service now!
Problem with the shop is Soma also has fantastic chocolate.  It's as though they know they have great chocolate and so think they can treat customers like crap because they'll always get them back – or they'll survive on the tourist trade.
The Dark Fire bar with its chilli was surprising.  Unlike other chocolates with chilli, this warmth isn't the chilli of dried flakes added to chocolate and hammering your taste buds suddenly before catching in your throat.  This is a gentle warmth that delicately surrounds the mouth and comes away cleam, without a dried powdery flavour hanging in the mouth.
The Black Science Madagascar 70% (batch M11) was delicious.  Letting a square melt in your mouth was a delicious experience that surrounded your tongue in a balanced experience of fruit and bean and delicious flavour.  Unlike some single origin chocolates that tend to activate only a single area of the mouth and result in a somewhat flat flavour, this is delicious.
Get this chocolate.  As it is microbatch, you might not be able to get this exact chocolate bar and you might not be able to get this exact batch but it is worth experiencing the shop now that one problem person has left!