March 31, 2010
Easter at Paul A Young – Sea Salt Caramel Egg in Cup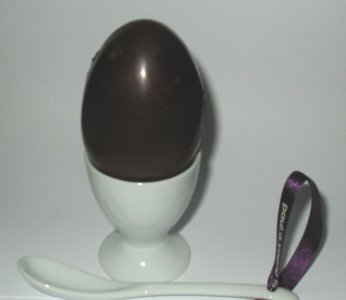 Lovers of Paul A Young's sea salted caramels must think Christmas has come early with the release of the rather large sea salt caramel egg. Larger than a Cadbury's crème egg, it is also slightly larger than a traditional breakfast egg but not by much.
The egg comes in an egg cup with a lovely egg spoon to scoop out all that lovely sea salt caramel. The chocolate used is a delight. Delicious and lots of it, the chocolate encases the rather extremely generous filling. Hungry as I was, and celebrating a few milestones in my life as I was, I still could not finish the whole egg. No bad thing, a bit of cling film and I can report it was as nummy later as when fresh.
This is any chocolate lover's dream and must have. Forget that cheap chocolate, forget boxes of Easter crème eggs, forget fancy silly overpriced bunnies, get the chocolate lover in your life this egg. They'll love you for it. I love the person who sent me mine lots and lots now – YUM!