July 31, 2012
Sir Hans Sloane Salted Dark Caramels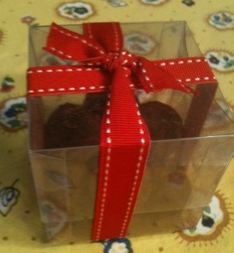 I'm a massive salted caramel fan. I do like sweet but I need sweet to be tempered by something else – in this case salt. As many of you know, I am an absolute raving fan of Paul A Young's sea salt caramel but there is more than just his in the world and more people them me in the world and they all like different things.
Sir Hans Sloane introduced drinking chocolate to the UK in 1687. Sir Hans Sloane Chocolates the modern chocolate makers actually make their own chocolate, spending a full 72 hours making it all. They actually start the process at their Chocolate Studio  at the Cocoa Liquor stage.  Cocoa Liquor is the base ingredient that forms all the chocolate they make and this is put into the conching machine to help bring it to life for their chocolate creations. The cocoa plants that they source from are in Panama and Venezuela. Panama not known for its single origin chocolate but Venezuela is well known in the chocolate world for creating lovely chocolate.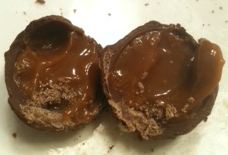 So what about the chocolates. Well, these cocoa dusted chocolate balls of liquid sweet saltiness are delightful. I think I'm getting muscovado sugar in here but as you can see this is a more liquid caramel chocolate than others (like my favourites) but it is runny delicious goodness. The darner runny caramel balances off the slightly bitter chocolate. The cocoa dusting I think adds to the chocolate but tricks you into thinking it might be a truffle 😉
All in all these are well worth buying though you will be satisfied with just one 😉 If your friends and family are anything like mine though you'll need to buy two boxes!