August 22, 2011
Seed and Bean Rich Milk Chocolate Bar Review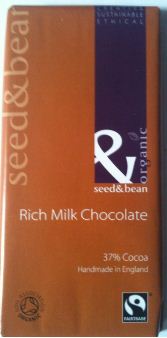 I am a milk chocolate fan.  I love the really high quality milk chocolate.  In fact, Hotel Chocolat has a delightful slightly darker milk chocolate.  Cocoa solids (37% here) don't determine a good dark or milk chocolate but it is an interesting element to consider.  The reason someone chooses a milk chocolate are many and varied but the reason for choosing to try this one should be its organic credentials.
Making positive changes in our lives is difficult.  I keep trying to reduce the simple carbs in my life (crisps freely available at the office, rice cakes, soups full of hidden nasties, etc) to make a positive change in my thyroid problem (which needs a low carb diet to balance itself).  I also try and choose recycled, reused or something with reduced packaging.  I try and buy fair trade and organic where I can afford to.  The whole range of Seed & Bean is organic and so I have at least 10 bars to choose from – YUM!
I chose to try the milk chocolate in the evening – well, late afternoon I suppose.  I have 2 times of the day when my palette is sensitive and both are annoyingly during office hours.  I'll find I can suddenly taste the tea I'm drinking – not always pleasant for sure.  So I chose a late slot for the milk chocolate for the next peak but with a different mouth activation.  Ya…my sense of taste changes through the day depending on what I eat and the time of day.  It is well freaky!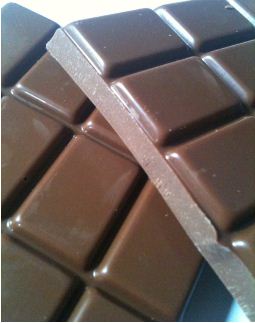 So I opened the paper and foil packaging and woah… wafting up from the wrapper was the most delicious, delightful, yummy-chocolaty smell that I'd had the pleasure of trying for awhile.  Oh goodness was that delightful.  I could see from the chocolate that it was light and the lack of snap of course in milk chocolate said this was going to be sticky.  That's fine – it's milk chocolate.  I put the piece in my mouth and it started to melt and washed through my mouth on a chocolaty tide…
Not my favourite of the range.  The lovely flavour of the chocolate and the sugar mix together here to create the usual sweet sticky mess of milk chocolate/.  On a cold harsh analysis though this isn't quite as good as some other organic, fair trade milk chocolate I have had however this milk chocolate bar likely does not usually have to stand alone and naked as I have had it here.  It seems the perfect base into which other things may be added but on its own it is slightly too sweet for me, slightly too sticky in the mouth as it melts and just not quite right for me.
This is probably a great milk chocolate for someone looking to make a positive change in their life and move away from mass market to smaller producer.  While Seed & Bean don't go from bean to bar, they are trying to ensure organic products at every step of the way and so by choosing them you can make a positive change too.