August 25, 2011
Seed and Bean Pumpkin Seeds and Hemp Oil Chocolate Bar Review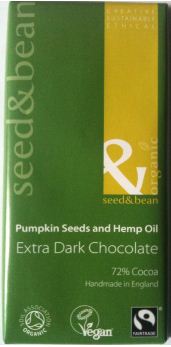 Pumpkin seeds are a super food.  I need to get healthy.  Therefore eating this chocolate is like getting healthy therefore this is a health bar.  EXCELLENT!  Just what I needed.
I'm not sure about the hemp though – hemp is made from the marijuana plant and marijuana plant is illegal because people who ingest it get high so I'm thinking this is maybe a naughty chocolate.  How can it be both naughty and healthy?  I'm not sure – or am I confused? And why am I suddenly craving crisps (chips for you North American folk)?
Regardless… this chocolate is very different.  The base chocolate that is used hasn't been made from bean to bar but it is still carefully selected for quality and organic credentials.  The taste of the base chocolate is nice but sacrificed often by the additives in the bars I have tried.  I wonder what this one will be like… I wonder… hmmmm… maybe I should just try some!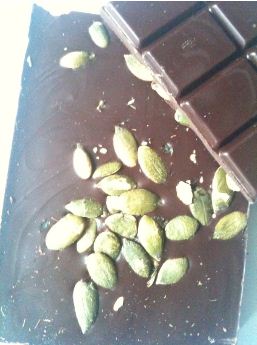 The slight acidity of the Dominican Republic chocolate gets to shine a bit here but the flavour of the pumpkin seeds soon gain prominence.  I'm not sure what bit of the strange flavour is pumpkin seed and which bit is hemp oil as I decided to give this one a chew.  Not quite as yucky as coconut.  The hemp oil is really very subtle here or it complements the chocolate so fully as to be completely blended.  There is no real flavour I could taste from the hemp oil but as I was chewing this chocolate and not just letting it melt so I could crunch the pumpkin seeds.
Not bad and hey – super food healthy!