August 24, 2011
Seed and Bean Coconut and Raspberry Chocolate Bar Review
This was a bit of a scary bar for me.  I don't know why but I've never liked coconut.  When friends were thrilled about the flavour of the nut, I avoided it.  I found the feel of it in my mouth unpleasant and the taste less than pleasant.  I don't mind the smell in suntan products but I just don't want to eat it.  Maybe it was smelling coconut and knowing suntan cream tasted nasty made that bad association.
Does anyone like coconut besides my childhood friends?  Do you?  Do you like small chunks of the coconut in your food? Do you like it toasted?  Do you shun it like a leaper as I do?  What ever your feelings, you'll know if you want this bar in a few short words.
There are times when I brave the worst chocolate can throw at me for no other reason than I cannot spit it out and still be a polite lady.  There are times I regret placing something in my mouth so much, I want to scrape a layer of skin off.  I think the marmite bar from Paul A Young was sampled at home and it was a difficult not to spit it out but I ate it because my brain was at war with my tastebuds.  In this case I tried it on the train so there was nowhere to hide.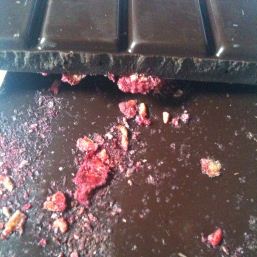 Maybe it was the strength of the coconut oil.  Maybe it was the fact I chose a time when my palette was sensitive.  Maybe it was just my dislike of coconut… but I haven't eaten coconut in years.  So really – it's just oil which is actually a bit reassuring so there won't be coconut bits in my bar.  That's OK then and I love raspberries and there are LOTS onthe outside.  OK right – let's go for it…
I've forgotten just how much I dislike coconut.  The initial sharply sour taste of the dried raspberries on the outside of the bar gives way alarmingly rapidly to the taste of coconut.  The taste of the coconut immediately floods your mouth, drowning any hope of the chocolate peeking through.  It's like eating a bar of coconut and a bit of raspberries.  If you dig coconut this is going to be like eating a piece of heaven.
For someone who doesn't like coconut, it wasn't.  Yuck