August 24, 2011
Seed and Bean Cornish Sea Salt Extra Dark Chocolate Bar Review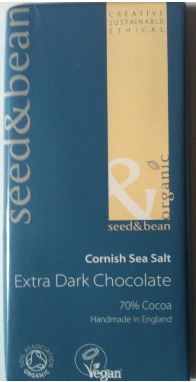 Dark chocolate is loved by chocolate aficionados because the flavours come more distinctly through and compliment the flavour of the roasted bean which comes through.  It is like wine – chocolate lovers who are passionate about the flavours of chocolate rather than just eating it pay extra for bars which spotlight those flavours.
Generally mass-manufactured chocolate is flavourless.  It has been over roasted, over refined, over conched, had cocoa butter replaced with vegetable oil and generally tastes nasty.  That's my impression of a Bournville at least.  Good dark chocolate is carefully roaster, refined then conched within strict timing and aeration guidelines and tempered with just the right amount of cocoa butter.  Pierre Marcolini, whose factory I toured, takes this process extremely seriously, varying times of everything in line with the bean and the needs of the bean.  It is rare outside artisan chocolate makers to find a well-made dark but Divine and Green & Blacks are two brands available at the supermarket which are lovely.  But what about your local health food stores?
Seed & Bean are an organic company who, which they do not go from bean to bar, take extreme care with the chocolate they select and treat it carefully to preserve the flavour.  Every bar they do is certified organic so you know you're not impacting the environment negatively by buying it.  But what about the taste?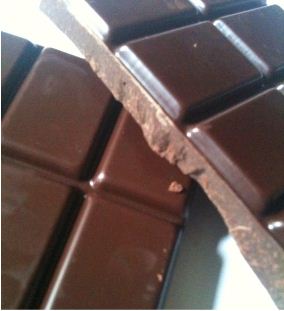 You know the Ecuadorian roots of this chocolate from the moment you place it in your mouth.  That special earthiness overlaid with rich red berries immediately assaults your taste buds with an initial tang of leather mellowing out into an argument between dried red fruits and dark, moist rich earth.
The sea salt is absolutely there and is something you occasionally get a bit of as it floods your taste buds with a light brine.  There is no salty brine shock though as there is so little in each pocket large enough to notice that it fades quickly.  I wonder slightly if the leather was in fact aided and abetted by the smoked sea salt here, but it is hard to say.
This is a bar that with grab you from the moment you place it in your mouth.  The complexities of flavour do fade slightly over time until you are left with a rich brownie flavour aftertaste and it makes for a delightful bar.  Of the range this is not only my top pick, it is one I'd pay for.